A Tale of Two Ecosystems: Amazon Instant Video for iPhone Marks Best of Times
MacNewsWorld

Amazon Instant Video, an app from AMZN Mobile, is available for free at the iTunes App Store.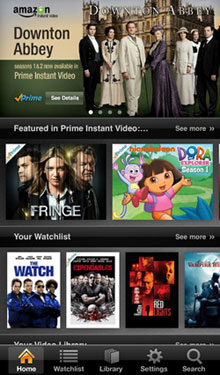 Back in August, Amazon released Amazon Instant Video, an app for the iPad that lets you stream or watch downloaded movies and TV shows you access via an account with Amazon. Now the company has extended that app to the iPhone and the iPod touch, which is fantastic for iPhone- or iPod-packing Amazon-using customers.
Of course, I'm one of those customers.
In fact, I'm a member of Amazon Prime, which for US$79 a year, gives me fast and cheap shipping options on physical items I buy from Amazon, as well as access to a Netflix-like video streaming service that's -- sort of -- free.
Basically, with Amazon Prime you can stream thousands of B movies, as well as some older movie hits, plus lots of TV shows from seasons past. You'll have to pay an extra charge to rent or buy newer videos from Amazon. Still, the point is this: If you're an Amazon Prime customer, Amazon Instant Video is an app you'll likely want on your iPhone.
How It Works
Like the iPad version, which I reviewed in August, the iPhone version is dirt-simple: You can browse through features movies, TV shows and documentaries by flicking through different horizontal categories that are vertically stacked. You can search.
You can go straight to your Watchlist, which is a list of content you can create on any Amazon-connected Prime system. You can add items to your Watchlist from your Xbox 360, PlayStation 3, from a Web browser, from your Kindle Fire or from your iPad. It's all tied together by the apps and your account.
Best yet, Amazon's Whispersync system automatically keeps track of what videos you are watching, and when you stop watching, it keeps track of your spot. So, if I start a movie on my HDTV via my Xbox 360, I can pick up where I left off on my iPhone when I'm out and about.
Nice. Very nice.
Of course, there's a limitation: Amazon Instant Video only works over WiFi. It doesn't matter how fast your cellular service is or how large your data plan is -- you can't watch streaming video unless it's over WiFi. That's a bummer, of course, mostly for those of us who still have the so-called unlimited data plans.
If you buy or rent a movie and download it to your device in advance of leaving WiFi connectivity, you can watch those videos anytime. So that's a good backup plan if you're traveling. Still, I tend to buy and rent from Apple . . . and stream from Amazon.
The Big Annoying Limitation: No AirPlay Support
As of right now, Amazon Instant Video does not support AirPlay, so that means you can't queue up a video on your iPhone and then push it out to your HDTV-connected Apple TV. Since I have an Xbox 360, this isn't a big deal, because it's still possible for me to view Amazon Prime content on my HDTV. More to the point, the glaring app that's missing now for Amazon Prime video watchers is an app on the Apple TV itself -- like Netflix -- which is what I'd like to see.
What I find most interesting about this app is that it's available from Apple . . . when Amazon is turning into one of the company's biggest and most threatening competitors. Netflix doesn't make tablets -- Amazon does. Netflix doesn't sell e-books -- Amazon does.
Netflix doesn't really have a whole ecosystem, while the Amazon ecosystem is encroaching into Appleland by leaps and bounds. And it's this ecosystem -- this attempt to train consumers to think of Amazon first when it comes to content -- that is the catalyst that got us the Amazon Instant Video app on iOS in the first place. I'm still surprised that Apple let it in, but quite happy Apple did.
What About Playability?
Overall, like most streaming video apps, the snappiness and playability suffers from poor WiFi connections. If your service isn't fast, or if there's something upstream you can't see or imagine, it might take a while to open up a video to watch it. It may pause. Or you might lose your WiFi connection and have to restart the video.
This is why, when I can afford it and want to watch content more than once, I buy it. But sometimes I can't afford, say, all the seasons of 24, so I'll muddle through connectivity in order to watch Jack Bauer do his thing from season to season.
In fact, I experienced three errors right away while attempting to use this new iPhone app version. The first? I tried to watch The Expendables, but the movie wouldn't load. I got a pop-up window that said, "An error has occurred while obtaining a license to play this video. Please try again." I tried again. Same error. I moved on to Into the Wild. Same error came up.
to find something off the radar of most of the new iPhone-using customers that were perhaps hitting all the Amazon content hard with this new release, I tried Phineas and Ferb . . . and got generic playback problem error. I tried Dora the Explorer next and then started finding content available to stream. And a few hours later, I was able to get The Expendables to play without hesitation.
Great Interface
All-in-all, the interface is dark, slick, polished and highly visual based on movie and TV show art. It's snappy and looks fantastic. Most importantly, I appreciate this new device option for viewing my Amazon content. So thanks, Amazon, for updating the app to support the iPhone. And Apple, I appreciate the consumer-friendly approval of Amazon's app.

---