After initially launching to an iOS-only audience late last year, Jawbone's UP24 wireless fitness tracker on Tuesday finally arrived for Android.
With the UP24 wristband and accompanying app, users can wirelessly sync sleep, movement and diet data to the app via Bluetooth Smart.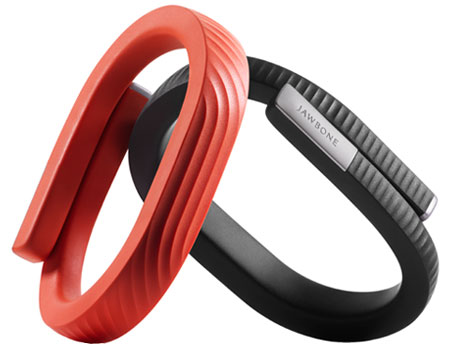 "Now with the launch of UP24 on Android, our entire community can enjoy the benefits in real time, with continuous feedback and in-the-moment notifications to help them achieve their goals," said Travis Bogard, vice president of product management and strategy for Jawbone.
Android users already have been active participants in the UP community, Bogard added.
Priced at US$149.99, the UP24 wristband features a hypoallergenic, medical-grade rubber exterior with a textural design. It is available in onyx or persimmon. The new UP by Jawbone 3.0 app for Android is now available in 12 languages as a free download on Google Play.
'Idle Alerts'
The UP system tracks users' movement and sleep in the background while the app displays key data; users can add data such as meals and mood. Using the system, they can track sleep and physical activity; log food and drink to track nutritional information; and set goals, with suggestions from UP.
Smart Alarm and Power Nap features can wake users at an optimal time, while Idle Alerts can be set to remind users to keep moving. Users of the app also can team up with friends for encouragement and friendly competition. In addition, the app can deliver notifications of accomplishments and milestones.
Languages the app supports include English, Spanish, Dutch, French, German, Italian, Japanese, Korean, Portuguese/Brazilian, Russian, Simplified Chinese and Traditional Chinese. The UP24 wristband's battery lasts seven days.
'There's More Investment Required'
While it may seem like a significant drawback to have arrived on Android so late, Jawbone's tardy appearance actually isn't all that striking, Ross Rubin, a principal analyst with Reticle Research, told LinuxInsider.
In fact, another companion app for a wearable device that lagged on Android was version 2.0 of the Pebble app, Rubin pointed out.
While the Android market is clearly bigger, there is also "a much broader range of devices to support," he explained. "Some support Bluetooth 4.0, some don't, and there's a whole range of screen sizes."
In short, "there's more investment required in QA to optimize the appearance for screen sizes, resolutions and capabilities," Rubin said.
'Still in the Early Adopter Stage'
The delay may not be significant, Jim McGregor, founder and principal analyst with Tirias Research, told LinuxInsider.
"While I think launching on the Android platform would have been optimal, it was important to introduce UP as soon as possible and then add additional support and features as quickly as possible before the market becomes too crowded or — worse — dominated by a few players," McGregor explained.
"We are still in the early adopter stage," he added. "As the technology, usage models and business models around wearables evolves, so will the devices. Eventually a few key players will emerge as the industry leaders, and Jawbone is in as good a position as anyone else as long as the UP platform continues to evolve."
'Novelty Items'
It may be, however, that "launching without Android support is a huge minus for any wearable device, unless the feature set, connectivity and server-side support is limited," Steve Blum, president of Tellus Venture Associates, told LinuxInsider.
"That's a good description of the Jawbone UP24," he noted. "It's a simple product that's attractively designed, but it doesn't do anything particularly innovative."
So far, wearables like the UP24 or Fitbit "are novelty items, not must-have accessories for serious fitness enthusiasts or breakthrough lifestyle products for average consumers," Blum pointed out.
Of course, "it's early days," he added. "Soon enough, someone will find the right combination of smartphone connectivity and features, server-side processing, and wearable sensors — and create a product that makes life more enjoyable and productive, with less effort and greater convenience. That's what the iPhone did after years of proto-smartphone products that didn't exactly fail but remained in the niche category."
'Solved by a Cowboy Developer'
Toward that end, "you need the flexibility and developer support that the Android platform provides, including its easy integration with Linux server-side development," Blum said.
"The problem will be solved by a cowboy developer, not someone living between the lines of Apple's store policies," he added. "That's why Google is coming out with a wearable SDK — and why not putting Android at the top of wearable product development priorities is a mistake."
That said, "the UP24 will perform nicely as a novelty item," Blum concluded, "but my prediction is that 95 percent of units sold will be languishing in dressing table drawers within a month."