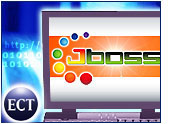 Hewlett-Packard and JBoss announced a deal today in which HP will support JBoss' open-source application server and use its Services division to help clients migrate to JBoss' platform. With the arrangement, HP becomes the first big Linux vendor to certify JBoss.
"Most of the Linux firms are pretty much no-name vendors once you get past Novell [SuSE] and Red Hat," Yankee Group senior analyst Laura DiDio told LinuxInsider. "They need the blessing and partnership of a big name to give them credibility. It legitimizes JBoss in the minds of many organizations that haven't heard of them."
Back in the Middle
HP, in turn, gets middleware, a business it abandoned two years ago when it dumped its Bluestone Software, a Java application server, after buying the company in 2000. The tightened partnership with JBoss allows HP to get back into competition with IBM and BEA, HP's main rivals.
"HP gets not to reinvent the wheel. This gives them entree back into middleware. It's no different than a large company buying a small company," DiDio said. "HP has been missing in action in the software business for a long time."
She called the move an important "connect-the-dots step" and said it was a "win-win."
Adding Value
Forrester Research VP and analyst John Rymer agreed, saying HP would be a very important distribution channel for JBoss that could project the company's strengths into enterprise applications in several ways. These include, according to Rymer, integrating JBoss into full platform stacks including databases; defining architectural patterns for open-source software stacks; providing enterprise operational management tools (which JBoss does not provide); and "providing a single neck to choke for support."
"HP's activities are part of a broad movement toward commercial support of open source that, in my opinion, is making it practicable for a greater number of customers to use this software," he said.
HP also announced in May that it would support MySQL database server and JBoss application server software in its ProLiant and Integrity servers through the HP Partner Program. The companies began jointly selling their offerings on HP's standards-based platforms, including HP's recently announced Linux Reference Architecture.
The Whole Stack
HP now claims bragging rights to being the only major vendor to support an entire Linux stack. Offering the whole stack may put HP in good stead in its competition with IBM, which has poured US$1 billion into its Linux business since 1999.
"It's a services play," DiDio said. "Linux is just another way to make money. A lot of customers are concerned with support for open source. If you can't make money on the licenses, where do you make money? You charge a premium for the services."
HP will also extend its OpenView Application Management software to integrate with JBoss.
The companies did not release financial details of the deal.