Actor Ashton Kutcher has his hand in more than just the show Two and a Half Men and other roles, including his portrayal of Steve Jobs in the upcoming film Jobs.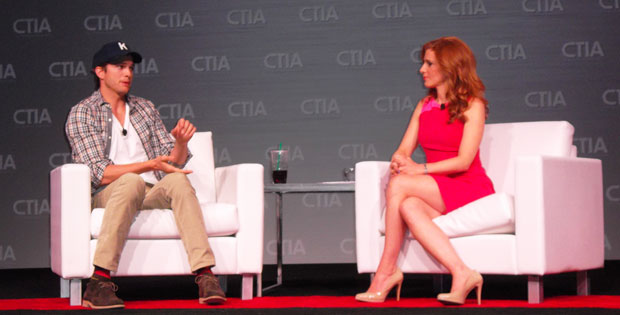 Ashton Kutcher and CNBC's Julia Boorstin at CTIA 2013
While other actors venture into businesses such as clothing lines or fragrances, Kutcher actively invests in the tech community with a venture fund. He shared his insight into the mobile sector in a keynote interview at CTIA 2013, the wireless industry trade show held this week in Las Vegas.
Kutcher was not the only actor with ties to the mobile industry who took the stage this week. Jennifer Lopez announced her new company Viva Movil, an multichannel mobile retailer packaging Verizon Wireless phones and service plans to the Latino market.
While many people think Kutcher's involvement in tech consists of camera commercials, he is actively involved in the Silicon Valley community. Venture capital firm A-Grade Investments was created by Kutcher with Ron Burkle and Guy Oseary in 2011. Since its launch, A-Grade has made investments in a number of tech companies including Spotify, Airbnb, Foursquare, Fab, Uber, Dwolla and Path.
Kutcher also cofounded media company Katalist. The company creates original content for digital media, television and film.
Kutcher sat down for a fireside chat on day three of CTIA 2013. CNBC media and entertainment reporter Julia Boorstin conducted the interview to a packed session.
Acting in the Tech Community
This being the conference for wireless and mobile technologies, the first question posed to Kutcher was how important mobile is when considering investments.
"They have to be in mobile," Kutcher responded. "If they're not in mobile, it's too late."
That's not to say that a company has to be a mobile pure play in order to get his attention. He just looks at companies that have a strategy or component.
Discovery and adoption are two key issues for mobile apps, he said. "The application discovery on mobile hasn't really been figured out. It's not mature yet. The search algorithms and discovery algorithms haven't really taken off yet."
One issue is that people don't share data due to privacy concerns. That also hampers development since companies can't get access to demographic data on who is using apps, and how they are using them.
Adoption is an issue. Consumers often link to content, only to be bogged down with app installation. Many abandon the process.
"I think HTML5 right now is still a really important layer to pushing links and pushing light content to mobile," Kutcher said.
Self-Discovery
Kutcher's interest in technology and in mobile are both personal and professional, from the viewpoint of an investor. The actor turned venture capitalist says he spends about 10 to 20 hours a week searching for compelling apps and content.
"I'm always shocked at how far behind the mass market is," he said with respect to some of the cutting edge apps. Part of his method to learn about new apps, he joked, is "insider information." However, he does also learn about a few on his own.
"I look for problems that I have in my life, or gaps that I have in my life, and do dead searches," he said. "I look at the things in my life that I'm hacking right now."
Boorstin stumped Kutcher by asking him what his favorite app is at the moment.
"Man, that's really hard," Kutcher said. He has a very social method to finding apps, in addition to his 10-plus hours a week of searches. "This is actually how I discover all my apps: I sit in a room with friends and see what's on their front page." The apps on the front page — the most easily accessible apps — are often the favorites of a particular user.
Social Viewpoint
It is well known that Ashton Kutcher is active on social networks: Kutcher's @aplusk Twitter account has more than 14 million followers. Yet while he still holds the microblogging site dear — and calls one of the founders a friend — he dropped the F-bomb and several other expletives when describing the current state of Twitter to the packed ballroom.
"Twitter's experience has changed for me, pretty drastically," he said. "It used to be a very personalized experience for me."
Then he got real. "I think for lack of a better verb, that media really f**ked it up. Media companies came in and pounced on it — the signal-to-noise ratio, companies selling s**t and people constantly pitching crap."
Twitter should go back to its roots of friends sending out a quick notification to other friends, he said. The next level, for him, is objects sending notification.
"I think it will get better, and I think intelligent objects, like intelligent mobile objects, will help it get better," Kutcher said. "Once my bus can notify me that it's on time, or my coffee machine can tweet back and let me know my coffee is done. I think Twitter will become a lot more valuable."
The actor has a large following, and while he likes Facebook, he has moved to other networks for more intimate connections. As far as Facebook is useful to someone like him, he says that it helps people connect with friends of friends.
"When you think about Facebook, it's built trust-vines. You get to know a friend of a friend." (By the way, if you have a friend of a friend of Ashton Kutcher's, he says he would be happy to host you at his house. Please try that and report back to the E-Commerce Times.)
His more intimate social networks include Path, which limits users to 150 contacts, and Couple, where users can only connect with one other person. "The mainstay person in your life, and you share moments," Kutcher said.
Another promising platform is Nextdoor, a private social network for your physical neighborhood. Kutcher said he joined with about 170 of his immediate neighbors. It serves as a way for communities to communicate, ask for recommendations for contractors, and look out for each other.
His advice for the mobile industry is that it needs more help.
"I don't think anybody has mastered mobile. I think mobile is so far from being mastered," Kutcher said. "Mostly because of strengths, the speeds that data needs to be transferred."
As CTIA 2013 closes, attendees can take those words and work on mastering mobile until the next show, Super Mobility Week, which will be held in September 2014.