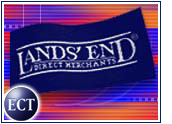 Catalog-and-click retailer Lands' End has introduced a virtual spin to this year's bathing suit shopping season by making its interactive"Personal Model" available to online shoppers who want to see what different swimsuits would look like on their body type. The feature allows anonymous or registered shoppers to choose from a variety of face shapes, hair colors, skin tones and physical proportions to create custom models that "try on" Lands' End swimwear. The models can be turned around to show several different views.
"So many women don't have the time to try on 20 different swimsuits," said Lands' End swimsuit buyer Kim Ross, adding that the 60,000 possible permutations of the virtual model most likely cover shoppers of all walks of life.
Virtual Body Image
The Dodgeville, Wisconsin-based company is not the only e-tailer to offer a virtual model feature. The once high-flying Boo.com — which announced that it would be liquidated last week — gives shoppers the opportunity to view fashions on a tall, gray mannequin in three different modes: spin, zoom and try-on.
Boo.com, which is currently entertaining buyout offers, also features a shopping companion, "Miss Boo," that makes suggestions and offers fashion tips in the way an actual shopping companion might. Lands' End, on the other hand, offers simultaneous browsing with an actual friend in a distant location, and an online "Swim Finder" guide that contains click-to advice about how to minimize such anxiety points as bulging tummies.
The Net or the Mall?
As fashion e-tailers add an increasing number of interactive features, the gap between shopping at the mall and shopping on the Net is becoming smaller andsmaller. The latest versions of the virtual dressing room, for example, offer computer images that instantaneously display new clothes on life-like models. Although the shopping process is faster than actually trying on clothes in a mall dressing room, virtual shopping clearly does not allow potential purchasers to feel the fabric of a garment or determine the quality of its construction.
Still, many new economy shoppers argue that brick-and-mortar stores do not offer the privacy — or peace and quiet — of online shopping. In addition, after shopping at an online clothing store, there is no waiting in line to check out.
Low Profits
Lands' End, which began life as a catalog merchant in 1963, is likely banking on its swimwear campaign and new features to deliver much-needed profits.
Lands' End President David Dyer
Earlier this month, the company announced that net income fell 96 percent in the fiscal 2001 first quarter on lower sales. Net income for the quarter ended April 28th was $292,000 (US$), or 1 cent per share, down from $6.5 million, or 21 cents in the year-earlier quarter. Earnings fell far short of analysts' estimates of 16 cents per share.
Despite the low earnings report, many analysts remain optimistic about the company's long-term potential, citing its business model, increased catalog distribution and plans for Internet growth. Many dot-coms haveshown no profit, while Lands' End has demonstrated profits and exponential revenue growth, with $138 million from online sales for its fiscal year ended in January, up from $18 million in 1998.
According to Charlotte Lacomb, director of investor relations for Lands' End, the factors which helped the company in the catalog industry, including personalization and customer service, have been key toits Internet success.