Roam Control Could Muscle You Out of a Tight Spot

Roam Control, an app from MrGreg, is available for US$3.99 at the publisher's website.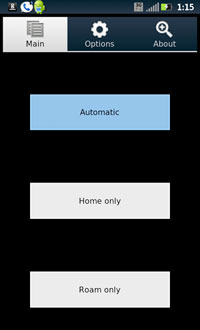 Minimal signal bars? In the middle of nowhere? Your phone should automatically roam onto alternative networks designated by carrier roaming agreements, but sometimes it doesn't -- the phone can appear biased towards your home network.
I've been looking at Roam Control, an Android app -- not available in Google Play -- that lets you force your phone to roam. You can get the app from the publisher's website.
I've been intrigued by this app because I've often seen my phone flip-flop between its native Sprint and roaming, as designated by a tiny triangle icon adjacent to the signal bars.
How It Works
Roam Control lets you select network settings of "Roam Only," "Automatic" and "Home Only" through an on-screen widget.
Caveats are significant. The app is designed for CDMA only -- that's Sprint and Verizon- like networks -- and not AT&T or T-Mobile, which use GSM.
The app doesn't work with 4G -- 4G networks are not compatible with each other.
Carrier roaming policies need to be checked. Make sure roaming is included in your allowance, or you could experience bill shock. And roaming excessively can give cause for Sprint to terminate your account.
Supported phones are generally Sprint-rooted variants, though some unrooted HTC phones are supported, as are some other networks. I've written about rooting before.
Unsupported phones include LG phones.
Putting It to the Test
I chose a remote urban-rural location where I knew service was marginal and spotty to perform my tests.
Operating the phone there in its native, automatic mode, which allowed roaming within the phone's settings, caused the phone to remain on Sprint. I obtained a signal of -115 dBm.
Note that dBm is a measure of signal -- it's displayed graphically as bars. Closer to zero is better, and -115 dBm is considered a virtually nonexistent signal. I've never seen worse, in fact.
I attempted a call which failed to complete. The phone remained on Sprint's home network.
I then forced the phone to roam by selecting the "Roam Only" option within the Roaming Control app's widget. A signal reading provided a result of -95 dBm. Still poor -- as expected, based on the location -- but better than Sprint's -115 dBm signal. I then placed a call, which completed.
Based on this, I reckon that in marginal areas, the Roam Control app will give you an edge. I'm not saying that a phone doesn't, on the whole, roam successfully when there's no Sprint signal.
On occasion, though, when the phone seems bent on using Sprint, selecting Roam Control's roam function will move you over to a roaming network, and at least give you a shot at completing a call.
An added benefit is that it should also let you save on battery because the phone will perform less signal-searching.
Data Roaming
It's important to understand Sprint's euphemisms when taking advantage of data roaming options. Sprint breaks its non-4G data coverage down into two coverage descriptions: "Sprint 3G Roaming" provides 3G EVDO download speeds of 400-700 kbps, whereas the ambiguous description "Nationwide Sprint Network Roaming" really could be renamed "Nationwide Slow Network Roaming" because its 1xRTT download speeds are limited to 50-70 kbps.
Verizon uses the words "Extended 1x Data Coverage" as its euphemism for slow data roaming, and "Extended 3G Data Coverage" for faster.
I found that forcing Sprint roaming for data purposes, in an area with strong Sprint and Verizon service, grabbed me a 1xRTT signal from Verizon, rather than a Verizon 3G signal.
Even performing an over-the-air update of the PRL (Preferred Roaming List) using my phone's settings didn't cause the phone to grab a 3G roaming signal.
After a bit of research, I discovered that this was indeed a PRL issue -- mine is restricted to 1xRTT roaming. I understand that it is possible to upload custom PRLs that will allow 3G roaming. You can read about custom PRLs at super-developer resource xdadeveloper's forum. Also, apparently some business accounts do allow 3G roaming.
In Conclusion
Not being able to grab a 3G data signal when roaming had nothing to do with Roam Control, and it's likely that if you want to, you can upload a custom PRL to make it work.
However, I'd like to have seen a bit more documentation on the app's website in this regard -- at least point the app buyer in the right direction.
Still, this app allowed me to complete a call where I hadn't been able to before. That's a big deal. I can see it's a bit like a vehicle's four-wheel-drive option, in that you may not use it everyday, but when you do use it, you needed it.
Forced roaming as a voice option is a powerful tool.

---