Color Splash Is a One-Trick Pony, but It's a Beautiful Trick
MacNewsWorld

Color Splash Studio, an app from MacPhun, is available for free at the Mac App Store.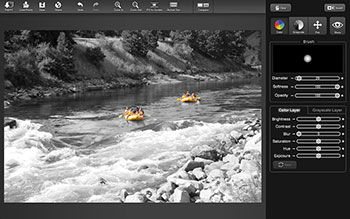 (click image to enlarge)
One of the things I like most about the Apple App Store for iOS -- and now, the Apple Mac App Store -- is that you can find and buy highly focused apps that just do one cool thing. Instead of shelling out a bunch of money for a powerful application with features you won't ever need, much less truly understand, you can buy a simple app, for example, that turns your snapshots into black and white marvels with a spritz of eye-popping color.
Enter Color Splash Studio by MacPhun for Mac OS X. The app is just 2.9 MB, costs just $1.99, and it only does this one thing: convert photos to black and white, then paint back the color only where you want it.
For some reason, portrait snapshots of people eating a piece of fruit look great when everything is black and white except the fruit. I have 75 GBs of photos on my Mac, and I've got a few of these sorts of fruit-or-food eating pictures. Either way, they are easy to stage. And if you're into taking arty photos on purpose -- say a sunset or urban landscape -- you can look for cool color and then imagine the effect with everything else black and white.
A few that I like include big outdoor panorama shots. Near Yosemite National Forest one year, I hiked high above our backpacking camp and took a photo of the landscape with a bright orange tent staked out in a meadow far below. I'm not sure if the effect is worthy of my living room wall, but it's sort of cool. Similarly, whitewater rafting photos offer up some nice opportunities because the rafts are usually colorful, and rapids and river rock render well in black and white.
Train Your Brain
If you make a dozen photos or so, even playing around, you can train your brain to a) recognize Color Splash opportunity after the fact when you are transferring photos from your camera onto your Mac, or b) look for opportunities when you happen to have your iPhone or camera. I've framed a few photos -- as I took them -- with the idea that I would turn them into black and white portraits or, for example, let a little blue play bucket on the beach anchor a black and white photo of a lake at dusk, the bucket long forgotten.
Sometimes the idea is better than the execution, but no matter: Color Splash Studio is super easy to use, and it lets you mess around and refine your photos.
My favorite feature is the easy-to-change brush style, which lets you paint with a big swath or tiny tip. Zoom in and out of your photo, and you'll find the right mix. If you're not so good with your mouse or pointer, you can undo your last move easily enough or change your brush to paint grayscale (B&W) back in. In some photos, it's hard to tell if you've gone outside the lines, so to speak, so Color Splash Studio gives you a "Show" button that turns all your painting bright red swipes. Sometimes there is subtle color in the original photo that you accidentally paint back, softening your intent and reducing the impact of your effort. The Show button lets you see these areas and paint back the black and white.
Color Splash Studio also has additional parameters for brightness, contrast, blur, saturation, hue, and exposure, but frankly, the only parameter that I've found to be particularly useful is saturation, which basically lets you turn the color into a more intense blast. Of course, you can mute the color as well, making it subtle, which can create nice effects, too.
Other features that are handy include the ability to drag and drop photos into the application, switch it to full-screen mode in Mac OS X Lion, pull photos from iPhoto or Aperture albums, or share your creations to the most popular social media platforms.
Plus, at just a couple of bucks, if Color Splash Studio lets you create just one cool photo worthy of surprising a friend or fitting into a photo frame for your bathroom, it's worth it. For me, the value it provides far outweighs the price: It's a worthy tool to have on my Mac.