BassJump Takes the Low Road to Better MacBook Sound
MacNewsWorld
For their size, the speakers in Apple's MacBooks deliver very good sound, but they are rather weak in the bass department. That needn't be so, though, with the addition of a new product from Twelve South called "BassJump" (US$79.99).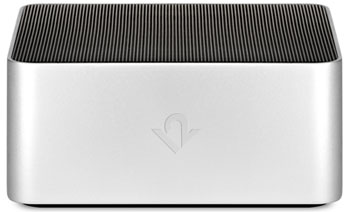 BassJump by Twelve South
BassJump is a portable subwoofer for MacBooks. A subwoofer enhances mid and low frequency output from speakers and gives them a richer sound.
The unit connects to a MacBook through a USB port and draws its power from that port, too. If the notebook is untethered from its power cord, BassJump will shorten battery life, but no more so than any other plug-in peripheral, such as a portable hard drive.
Virtual 2.1 Sound System
BassJump is designed to blend in with the MacBook's native speakers. "They're quite decent little drivers," Twelve South's Creative Director Andrew Green told MacNewsWorld. "They're just optimized for high-end frequencies."
"We add a subwoofer to that, creating a kind of virtual 2.1 sound system," he continued. "We give some mids and lows to the speakers and create a much fuller, much more satisfying sound."
Until the arrival of BassJump, MacBook jockeys hungry for better sound bypassed the internal speakers entirely. They'd buy an external system consisting of a pair of speakers, a subwoofer and an AC adapter and have cables running between all the components.
"You'd have three plastic boxes and four or five cables littering your space," Green noted. "The BassJump is the opposite of that. It's just a small five-inch square of aluminum that connects to the MacBook with one cable."
Not Quite Plug-and-Play
Although connection to the MacBook is easy, BassJump isn't exactly a plug-and-play device. Software, included with the peripheral, is needed to run the unit.
"Typically, when an additional speaker is connected to the MacBook, its speakers turn off," Green explained. What the software does is keep the notebook's speakers on, and it mixes the BassJump's low frequencies with the speakers' high frequencies.
In addition, it allows the output to be customized to accommodate an array of musical styles. That's done by managing the BassJump's volume relative to the total volume and its crossover frequency. Crossover frequency determines how much of the frequency range the subwoofer will participate in.
The software has five presets for rock, pop, R&B, classical and jazz. For R&B, for instance, the BassJump's volume would be cranked up to the max, but the crossover frequency is relatively low, 150 kHz. On the other hand, for classical music, where a more balanced sonic picture is needed, the bass is turned down to about 50 percent capacity and the crossover frequency is higher, about 175 kHz.
Dysfunctional VU Meters
Twelve South has created an attractive control panel for the JumpBass's software. It has two large virtual analog VU meters that give the panel lots of sizzle. "Functionally, they do nothing," Green confessed, "but looks-wise, they're totally cool." A smaller and equally dysfunctional VU meter appears on the toolbar when the software is minimized.
In addition, there's a large on/off button that allows a user to hear the difference in a notebook's speakers when BassJump is activated compared to when it isn't.
"We felt the more visually fun and entertaining we made the control panel, the more enjoyment our users would get out of using it," Green maintained, "and additionally, it would encourage them to play with the settings and remind themselves of the real difference that BassJump was making to the sound from their MacBook."
More Than White PC Accessories
Twelve South is new to the Mac accessory market. Its first product, released in August, was the BackPack, an adjustable shelf that attaches to the back of an iMac or Apple Cinema Display.
"Five or six years ago, before the iPod, there used to be a nice accessory market for the Mac," Green said. "Then the iPod came along and the people who were doing cool Mac accessories jumped on the iPod bandwagon and forgot about the wonderful Macs that they used to accessorize."
"Most of the Mac accessories now on the market were simply PC accessories painted white and called 'Mac compatible,' 'Mac friendly,'" he declared.
"That's why we started Twelve South," he added. "We wanted to make accessories that weren't just Mac friendly but Mac-only and to use the Mac platform to make accessories that aren't even possible to make on a PC."