MacBook Pro Turns Over a Sharper, Thinner New Leaf
MacNewsWorld
Apple executives took the stage at its annual Worldwide Developer Conference (WWDC) Monday to unveil a slew of new hardware and software, including a new MacBook Pro with a Retina Display, as well new information about the upcoming iOS 6 and Mac OS X Mountain Lion operating system.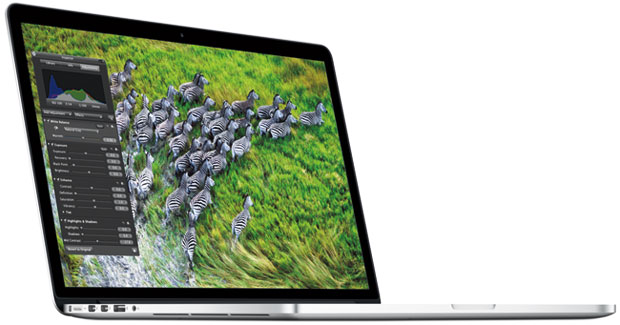 The new MacBook Pro with Retina Display
"The MacBook Pro is the centerpiece of the event for obvious reasons -- the hardware, the display. It's a phenomenal piece of power with a very elegant design," Danielle Levitas, a group vice president at IDC, told MacNewsWorld. "But what has the broadest impact and reach in terms of its impact on the market, individuals and the masses is iOS 6."
From the point of revenue generation and excitement, the iOS 6 announcements were the most important, said Carl Howe, vice president, data sciences research at the Yankee Group. "Given that mobile devices now account more than three-quarters of Apple's revenue, these announcements had to be center stage, and they were."
However, the next-generation MacBook Pro was the most important announcement "from a sexiness point of view," Howe told MacNewsWorld. "Apple gave mobile professionals of all stripes a justifiable argument to buy, or request their company to buy, a new Apple laptop. That machine [has] literally no competition today, nor is it likely to get any for at least 12 months."
The New MacBook Pro
Apple's new MacBook Pro has a Retina Display -- the same kind of ultra-sharp screen that can be found on iPhones and iPads. It has 220 pixels per inch and more than 5 million pixels overall. It uses IPS technology to provide a 178-degree viewing angle. The display has 75 percent less reflection and 29 percent higher contrast than the previous-generation screen, Apple said.
The new MacBook Pro has Intel's latest Core i7 quad-core processors with speeds of up to 2.7 GHz and weighs less than 4.5 pounds. It uses an Nvidia GeForce GT 650M discrete graphics processing unit. The new MacBook Pro uses flash storage and can play four simultaneous streams of uncompressed 1080p HD video from internal storage. It has two Thunderbolt and two USB 3.0 ports as well as an HDMI port. It sports a built-in FaceTime HD camera, a full-size backlit keyboard, dual microphones and enhanced speakers.
Pricing on the new 15-inch MacBook Pro starts at US$2,199.
OS X Mountain Lion
Apple also divulged more information about OS X Mountain Lion, its upcoming desktop OS. This latest version of Apple's Mac OS has more than 200 new features. They include a new Messages app, which will replace iChat and includes iMessage so Mac users can send messages to iPhones, iPads, iPod touches or other Macs.
Other new features include system sharing, a notification center, integration with iCloud, and a dictation feature.
OS X Mountain Lion will be available from the iTunes App Store in July for $20. It'll be free for anyone who buys a qualifying new Mac system starting Monday.
Looking at iOS 6
iOS 6 will be released to owners of iPhones, iPads and iPod Touches this fall as a free software update.
New features include a Maps app designed from the ground up by Apple, turn-by-turn navigation, enhancements for Siri, and shared Photo Streams through iCloud. Also included will be Facebook integration for Contacts and Calendar. It will also let users post directly from Notification Center, Siri and Facebook-enabled apps.
"The key pieces for me were the Siri enhancements and Apple maps, both of which will give developers new hooks into the Apple ecosystem and new ways to make money," the Yankee Group's Howe said. "The iPhone is now five to six points ahead of Android phones in terms of intent to buy in the United States."
Apple has released a beta version of iOS 6 for developers.
"The Facebook integration is huge," IDC's Levitas said. "The most powerful and popular mobile operating system finally integrates with the biggest social network. When you start to think about the overall ease of use, that's why we want to use these technologies."