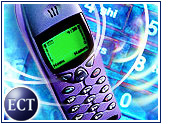 Picture this: You're driving to dear old Mom's house one Mother's Day in the not-too-distant future, when you realize you've forgotten to buy a gift.
You whip out your PDA (while safely stopped at a red light, of course) and instantly pull up coupons for flowers, spa days and jewelry, all offered by merchants within a 10-minute drive. You stop in a store, flash your electronic coupon, and you're wrapped and finished before Mom's pot roast gets cold.
It's a beautiful dream. Unfortunately, here's a more likely scenario: You're taking an important client to lunch at an elegant cafe. Your phone beeps in with an offer for a pet store. Although you've opted in to receive these types of offers — you just love to buy new collars for Fluffy — the timing is bad and the message intrusive. Ten minutes later, your phone is beeping again with coupons for a nearby fast-food place.
As e-commerce merchants make their way in the new frontier of m-marketing, I submit my humble request — don't be pushy. Let consumers come to you.
In Five Words or Less
M-marketers are moving ahead with trials that mostly revolve around push technology like SMS (short messaging system). SMS, for the uninitiated, pushes very short advertising messages (up to about 100 characters) to cell phones and pagers.
Analysts point to the brevity of these messages as one of the stumbling blocks to the success of m-commerce. If a typical cell phone or pager gives you about four lines of text, taking up three of those for an extremely brief advertising message leaves the consumer with precious little space for his or her actual message.
PDAs allow more text and longer messages — but not much more. Developing ads for these the tiny screen will be challenging, to say the least.
Opportunity's Beeping
Companies such as SkyGo are testing the concept of handing out free phones to consumers, with the agreement that each consumer receives a minimum of three ads each day.
Question is, will those consumers, once they have to pay for connection time, enjoy ads beeping at them from their phones three times a day? Not likely.
I suspect the free-phone phenom will go the way of free Internet access. As they say, you get what you pay for. As consumers become more educated and expectations rise, fewer will tolerate the intrusiveness of pushed ads.
Make Me an Offer
Personally, my biggest concern isn't about privacy invasions or the ability to opt in or out of pushed marketing messages. I'm looking for just-in-time information. If I'm visiting another city, I'd like to use my PDA to look up nearby restaurant listings — and find a coupon as I search.
That's the perfect blending of opportunity and need. As a consumer asking for information on a topic, I'm ready to see any available special offers. If I'm searching for information on a digital camera, and you offer me free shipping, I might just take you up on it. Just don't beep me with the offer while I'm in the middle of dinner.
There are all kinds of opportunities for time-sensitive mobile marketing. Suppose I'd like to go out tonight. While I'm looking up movie times, offer me a coupon for free popcorn or a two-for-one deal. What concerts didn't sell out, and can offer me discounted tickets? What ski resorts aren't booked for the weekend, and can offer me a last-minute deal? Let me call up those deals anytime.
Don't Opt Me In
It will be interesting to see how companies respond to the challenge of advertising on this new frontier. A few, I believe, are on the right track.
WindWire comes to mind. Its approach is to embed coupons within wireless sites. Customers don't have to opt in for anything — as they search for information, they see a related offer.
My message to m-marketers is simple: I'm on the go. I'm busy. I've got limited space for text on my cell phone. Don't waste time on brand marketing. Don't be intrusive, and don't make my phone beep. Chances are you're interrupting me. Just give me what I need, when I ask for it.
What do you think? Let's talk about it.
---
Note:
The opinions expressed by our columnists are their own and do not necessarily reflect the views of the E-Commerce Times or its management.
---