Microsoft is offering up to US$650 worth of in-store credit to MacBook Air owners who are willing to trade them in and purchase a Surface Pro 3.
The campaign runs until July 31.
All models of MacBook Air are eligible for the deal, though the value given in the trade will vary, depending on the specific model and its condition.
The offer "is an extension of the existing 'Recycle for Rewards Program,'" Microsoft spokesperson Jonathan Adashek told the E-Commerce Times.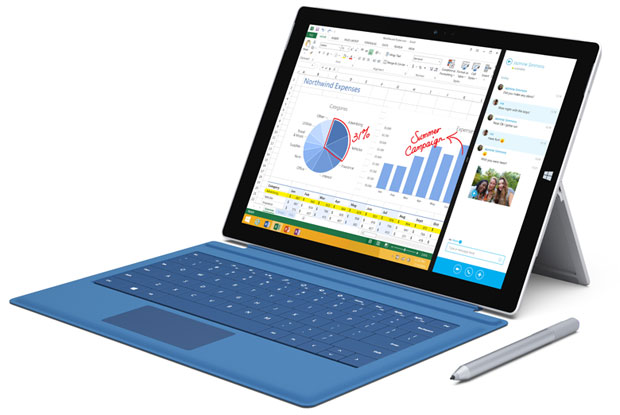 "I doubt Microsoft would have tried this against [late Apple CEO Steve] Jobs, as the risk in that instance would have been too great," Rob Enderle, principal analyst at the Enderle Group, told the E-Commerce Times.
"Jobs would have taken this as an affront and worked aggressively behind the scenes to make it look like a failure," he said. "[Current CEO Tim] Cook doesn't play these games as well, and he's likely to ignore the effort until it's too late. It's likely Microsoft's analysts came to this conclusion."
The Terms of the Offer
Microsoft's pitch is simple: Come on in to a retail store carrying the Surface Pro 3, hand over a MacBook Air in good condition, and we will tell you what it's worth.
Microsoft reserves the right to refuse any trade-in, and limits customers to one trade-in purchase each. Provision of store credit is at Microsoft's discretion.
The offer cannot be transferred, redeemed for cash or gift cards, or combined with other offers.
The credit cannot be applied to taxes, shipping or other fees.
Will Apple Take a Hit?
Apple sold a record 4.8 million Macs in Q1, 2014, with the iMac and MacBook Air leading the charge. That fell to 4.1 million in Q2.
So, might Apple be hurt by the Microsoft campaign?
Not likely, suggested Jeff Orr, a senior practice director at ABI Research.
"ABI Research … considers the MacBook Air will remain one of the most popular models in the [ultraportable computer] segment," he told the E-Commerce Times.
Owners of MacBook Airs tend to have other Apple products, Orr pointed out.
Further, ABI's consumer studies "suggest that laptop owners looking for an upgrade or replacement are not considering tablets within the choices, as the laptops are seen as performing different tasks from what they expect a tablet or a smartphone to," Orr noted. "People are more likely to trade in a Windows laptop than a MacOS machine for a Windows tablet."
On the other hand, "with the Surface Pro, you get a touchscreen tablet that can also be a notebook," Enderle pointed out.
All About the Marketing
The promotion "is a tricky way to get people's attention," Brian Blau, a research director at Gartner, told the E-Commerce Times.
It will not make much of a difference to Surface sales, he said, because iDevice owners love their devices.
"This promotion is really only meant for those few folks who really found no value in the iPad or Apple ecosystem," Blau suggested.
This "is the first-of-its-kind program to see if owners of portable computers agree that the Surface Pro 3 tablet is able to replace a laptop," said ABI's Orr.
Since Microsoft is limiting its offer to MacBook Airs, "it's difficult to gauge the interest in advance compared to if all laptop computers qualified," he pointed out.
High-Stakes Gamble
The move "is most likely a promotion to get people talking about Microsoft being in the tablet market and its corporate positioning and messaging," Orr said.
Whether the promotion succeeds will depend on whether Microsoft's willing to devote the appropriate funds and resources, Enderle suggested.
It "is a highly visible program which will color the perception of [Microsoft's] new CEO," Enderle said.
He'll be a hero if it's a hit and under a cloud if it isn't.
Microsoft "stands to lose face," warned Orr, if it doesn't rack up "significant numbers" of trade-ins by the time the campaign ends.