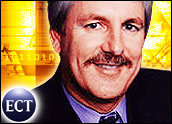 Last week's Entertainment Electronics Expo in Los Angeles was largely about competing gaming consoles, of course, and Microsoft was the company to watch with its Xbox 360. In addition, however, some impressive new notebook computers launched, and Dell, yes Dell, did something incredible again.
Let's take a look first at how Microsoft slam-dunked Sony on on two critical vectors at E3, causing many to conclude that this battle is all but over. Most critical is the fact that by having a one year lead to market, the Xbox has a huge advantage in new games and accessories. Two of the more interesting Xbox-compatible gadgets were the Live Vision camera and Wireless Racing Wheel.
The Live Vision camera can be used in-game and for video conferencing between stations allowing for the platform to continue to evolve beyond gaming. Tied back into the Xbox Live service, this may actually become one of the most widely used video conferencing technologies on the market shortly after it is available.
Beating Them to the Punch
The Wireless Racing Wheel is a piece of art. With a flat bottom similar to the newest wheels in high-end performance cars, thanks to the wireless feature, the product is easy to set up and take down without worrying about someone tripping over the cord. Of the first batch of Xbox games, the racing titles stood out as some of the most realistic and interesting to play.
However, the big attack was with Xbox Live. With this service, Microsoft did what Sony should have done a long time ago: loop the PC into the service. This means that for appropriate games — like first person shooters, driving games, and some strategy games — people playing on PCs can play against their counterparts on the Xbox, which vastly extends the number of players using the service. This also addresses one consistent problem with consoles: you really can't play with them when you are traveling.
Now, if you have a good gaming notebook, you'll eventually be able to play against your siblings, kids or friends while you are on the road. You'd be surprised at the number of adults who do that regularly. Of course, you'll need to be running Windows Vista, which means most won't get to try this out until after Christmas this year.
Sony gave Microsoft a huge boost by announcing the PlayStation 3 system would, in basic form, cost US$100 more than the premium version of the Xbox. What's more, the more compelling Blu-ray version of the PS3 will cost a whopping $600.
Hot Games
The hottest near-complete Sony title on the floor appeared to be "Heavenly Sword," a stunning looking game, though my preference was the "Gundam Mobile Suite" title, which unfortunately doesn't look finished enough to make the PS3 launch (I like fighting robots better than girls with swords).
Despite these — and this goes back to the one year advantage — there were simply many more compelling games for the Xbox 360, with "Halo 3" and "Shadowrun." Game systems live or die on titles.
For those who don't know, "Shadowrun" is a game that pits Fantasy against Sci-Fi. So, for example, if you always wondered what a cyborg would do were it to fight against a troll, or how a tank would fare against a dragon, this is the game for you — especially if you, like me, are a fan of the old book series this is based on.
One final shot Microsoft took was to say that one could buy both an Xbox 360 and a Nintendo Wii for the price of the new Sony system. Nintendo was clearly the bargain of the show, with plans to sell its console for between $200 and $300. Nintendo also presented some very nice titles as well and, at a fraction of the price for either the Sony or the Xbox, could still sneak in and surprise both of its competitors.
Laptop Lust
After getting a peek at a number of new laptops at E3, I thought I'd died and gone to heaven. One of my personal peeves with laptops is that the best size for travel, in my opinion, is one that has a 14-inch wide screen. This size is large enough to use as a monitor when you are desk-bound and small enough to use on couch if you are traveling. However, until now, no one made one that would play a decent game.
Hewlett-Packard just changed that with the DV2000. Not only does this thing have a gorgeous piano-black lid with embedded subtle graphics you can only see in person, it has a discrete graphics option which provides an adequate gaming platform.
The industrial design looks like a good cross between Sony's and Apple's offerings, and you can even get a built-in video camera for conferencing or to play against Xbox 360 folks next year.
While it starts at $649, the full power model you'll want is closer to $1,400. This may be the perfect notebook for the frugal traveling gamer with an attitude.
Budgets are an unfortunate reality for most of us, but for those with greater resources the choices became even more interesting.
For instance, the Toshiba G35-AV-650, also launched last week, is an incredible system. With a 17-inch display built to desktop standards, there is no notebook currently on the market that can match this thing for stunning visuals.
More of a multimedia notebook than a true gaming system, it does have plenty of performance and is the only notebook with an HD DVD-ROM optional drive currently shipping.
It has two 100-GB hard drives, which you can configure as a RAID and a built-in TV tuner. Fully configured, this will set you back $3,000, but if you love your videos, want to display products for business reasons, or just want to draw a crowd for a movie or the latest episode of "Lost," this puppy will probably do it. Just don't expect to be able to open it in coach unless you have a spare seat.
The notebook to die for at E3, however, was the AlienWare Dual-SLI Aurora mALX with a 19-inch display. Yes, you heard right — a dual video subsystem notebook computer with a 19-inch display. You could have watched the drool pool at my feet when I read the specs for this monster. At $4,500 this isn't inexpensive, but exclusivity and power have their costs. For this princely sum, you get a princely product.
You also get a custom paint job, real headphones, a Razor gaming mouse, custom backpack, custom portfolio, and a name plate, among other things — along with the knowledge that there is no is no notebook — and few desktops — that can touch the performance that this blasts out. Weight would be a problem — if I even cared, at this point — but if lust is your thing and you have the biceps, this is your laptop.
Dell Prototype
Speaking of lust, Dell showed a "prototype" XPS desktop system at E3. Looking like an engine out of a Pod Racer from "Star Wars" this incredibly cool-looking box was mean on the outside with power on the inside. Details on configuration are being kept a secret as is a final call as to whether Dell will actually build this product. Given the success of the $10,000 Renegade (a 2-month supply of these machines reportedly sold out in hours), it isn't hard to imagine that Dell is very motivated to get another incredible product like this into production.
When Dell starts taking the lead in design, it is time to perk up and pay attention. You may recall that at the Consumer Electronics Show, the firm unveiled a 20-inch modular performance multimedia laptop prototype that looks as wild closed as it does open. This product could make it into production.
It does kind of make you wonder how scary the merger with AlienWare will get. As long as it's the products that get scarier, I'm up to be scared s***less.
This year's E3 was an incredible event, complete with amazing products I want to buy, amazing games I want to play, and an amazing wife who kept my credit card under wraps until it was over.
---
Rob Enderle
is a TechNewsWorld columnist and the Principal Analyst for the
Enderle Group
, a consultancy that focuses on personal technology products and trends.
---