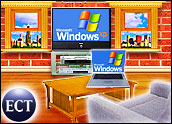 An offensive against one of the last pockets of resistance to theproliferation of the personal computer into every corner of our lives willbe launched this week by two high-tech giants: Microsoft and Intel.
Microsoft will roll out a new version of its Media Center software, whileIntel will raise the curtain on its Entertainment PC.
Both companies hope their new offerings will enable them to establish abeachhead for the PC in America's living rooms, which has proven to be atough place to get traction.
Integration Problems
One of the past snags in gaining acceptance of PC components in couch-potatoHQ has been the difficulty of integrating them into a home entertainmentnetwork, according to Jen Lashua, consumer desktop marketing manager for SanJose, California-based Intel.
"PCs are operated with keyboard and mouse, for instance, which is notconvenient in the living room," she told TechNewsWorld.
By contrast, the new Intel Entertainment PC, which will be produced by avariety of original equipment manufacturers, will use a sofa jock's weaponof choice: a remote control.
Obtuse Interfaces
Another barrier to acceptance of PCs into the home-entertainment zone hasbeen their obtuse interfaces. "Now Entertainment PCs come with veryconsumer-friendly interfaces that are clear to understand," Lashua said.
Entertainment PCs based on Intel technology will address another problemwith their progenitors: oddball connectors. "Entertainment PCs have AVconnectors as well as PC connectors," Lashua noted, "so you're able toconnect standard stereo equipment as well as PC devices."
Some Entertainment PCs will be based on non-Windows operating systems,according to Intel spokesperson Stephen Bonsignore, but others will be usingMedia Center 2005, which will be introduced tomorrow morning at a Microsoftnews conference in Los Angeles.
No Worries in Living Room
Complexity has been an obstacle to PC acceptance in the living room,admitted Megan Kidd, Microsoft's group product manager for Windows. "Peoplewant everything to work together and not have to worry about it," she toldTechNewsWorld. "We're doing a lot with the industry to make sure that thesedevices interoperate and there isn't that complexity and confusion forconsumers."
She said that Microsoft had great success with the first two versions ofMedia Center, with some 1 million units now in homes.
Although unable to talk specifics about the new Media Center product becauseof non-disclosure commitments, Matt Rosoff, an analyst with Directions onMicrosoft in Kirkland, Washington, noted that Microsoft "is doing somepretty new stuff in there."
"It's been a very successful niche product," he told TechNewsWorld.
He noted that Microsoft has more than 40 OEM participants in the program."It's allowed them to sell more high-end PCs, but it's been a pretty smallaudience so far," he said.
"The main thing Microsoft is trying to do [with this release] is increasethe audience," he added.
Transport Hang-Ups
Aside from issues of complexity, he said, transportability has been asignificant obstacle to the adoption of these boxes.
In January, Microsoft announced it would be introducing so-calledextenders — a hardware device that allows a Media Center PC to command andcontrol a consumer's entertainment appliances. Reportedly, those extenderswill be part of Microsoft's dog and pony show tomorrow.
"That will sort of address the transport issue," Rosoff said.
"But there's some reluctance to use a PC as a primary home entertainmentdevice," he added.
Old Habits
He noted that consumer electronics companies have been selling separatecomponents for a long time and that's how customers are accustomed to buyinghome entertainment products.
"They're used to buying single-purpose products that they don't have toworry about things like security, viruses and boot time," he said. "In otherwords, simple, reliable products."
"Consumers are used to buying equipment on a stand-alone, dedicated basis,"he observed, "and getting them to make the shift to the PC could bechallenging."