Microsoft is putting its Surface RT tablet on more shelves just in time for the holiday season.
The recently released tablet will be available at more retail outlets, including Staples and Microsoft's seasonal stores, in a matter of days. The company had been planning to increase Surface retail availability starting in 2013 but said it was hastening that expansion thanks to consumer and retailer demand.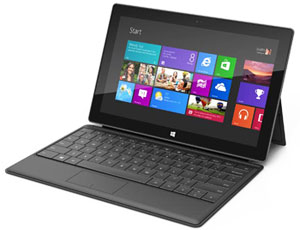 Microsoft's Surface RT Tablet
Microsoft did not release specific numbers, but the tenor of its announcement doesn't quite jibe with general expectations. Some analysts recently lowered their forecasts for Surface sales. While it's true that early sales may have been hampered by lack of availability, it's also true that the Surface faces other challenges in the market.
For starters, the Surface runs on Microsoft's newly launched Windows RT operating system. It entered the crowded tablet space against strong competition from devices that run on more established platforms such as iOS and Android.
Also, with a starting price of US$499, the Surface is a costlier alternative to many of its Android counterparts.
Microsoft did not respond to our request for further details.
Increasing Visibility
Microsoft has been good about getting the Surface into prominent ad space and has succeeded at making customers generally familiar with it. However, it's crucial that the company allow more consumers to actually get their hands on it in a retail setting, said Ben Bajarin, director and founder of Creative Strategies.
"The ad spend Microsoft has been doing around Surface has generated quite a bit of interest in the product," he told the E-Commerce Times. "That doesn't mean it has translated to sales, but there is at least an interest to check the product out. … By broadening distribution, Microsoft can get more people to get their hands on the product than before."
That's essential, given the relatively high price point on the tablet, said Colin Gibbs, analyst at GigaOM Pro. Though the Surface might offer more functionality than products such as Amazon's Kindle, consumers still need to examine and try out the tablet before they'll pay extra for it, he pointed out.
"Microsoft desperately needed to expand what was very limited distribution for the Surface, and doing it in the heart of the holiday shopping season should help sales substantially," Gibbs told the E-Commerce Times.
"Consumers are reluctant to plunk down $500 or more on tablets or smartphones until they can actually get their hands on them," he added, "and this will allow many more of them to do that."
More Surface, More Windows 8
Expanding Surface availability is also one way to make sure the company's newly released operating system gets some buzz.
If Microsoft promotes the Surface too much, though, it could run the risk of invading some of its partners' space, Bajarin suggested. A large chunk of Microsoft's revenue comes from selling software to hardware companies that offer competing products.
"The Surface, in my mind, has always been less about the device and more about generating interest in Windows 8, at least for the time being," he said.
"I think Microsoft wanted to be cautious from the outset to not step on the toes of its partners. Now that Windows 8 sales at large have been slow and steady, I think they feel they need to do more to kick start the ecosystem," Bajarin explained. "I'm thinking this move is what they think will help — again, with the emphasis being just getting consumers into more stores to look at all the Windows 8 products, Surface included."
On the other hand, if Surface sales can take off and generate some decent revenue for the company, Microsoft might be more eager to keep its hardware around, said Gibbs.
"I don't think there's a trade-off for Microsoft between pushing hardware and developing software," he observed. "It's a huge company, and it has plenty of resources to do both simultaneously."