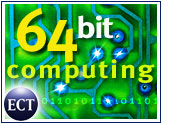 Diverging from its usual dedication to Intel-based machines, Microsoft has made public a beta version of Windows XP for use on 64-bit computers running the AMD Athlon 64 and Opteron processors.
Microsoft said its Windows XP 64-Bit Edition is designed for technical workstation users who require large amounts of memory and floating point performance in areas such as mechanical design, digital content creation and high-performance computing.
However, analysts downplayed demand for the operating system, pointing to the small number of 64-bit computers and even smaller number of applications that can run in 64-bit mode.
"Let's say I have a 64-bit operating system; I have to run all of the applications like Photoshop and even Word in 32-bit," Aberdeen Group chief research officer Peter Kastner told TechNewsWorld. "Windows XP 64-bit will not be helpful for customers unless the most popular applications are available."
Not Ready for Prime Time
Microsoft said the beta 64-bit version of XP, available on a CD-ROM or as a 450-MB download from the software giant's site, provides an early preview of its next-generation Windows XP 64-bit operating system while the software is still being developed. The company, which said fee-based support for the OS will be available with the final release, stressed that the software is intended for testing and evaluation only.
"This is an opportunity for you to begin evaluating Windows XP 64-Bit Edition for 64-bit extended systems for your individual business needs and ensuring that your applications will be ready for the commercial release of the product," Microsoft said on its Web site. "It should not be used for production purposes, and should not be placed in a production environment."
Kastner said that with the limited number of 64-bit computers on the market and a production version of the 64-bit OS not expected until the end of this year, Microsoft is unlikely to draw many early testers to the beta version of the software.
Looking to Longhorn
Microsoft is looking to keep up with rival 64-bit Linux operating systems and lay the groundwork for its next-generation Windows OS, known as Longhorn, according to Kastner.
"Microsoft is doing this because they think they'll need the code base in the Longhorn time frame, which is two to three years out," he said.
Microsoft established a private newsgroup for discussing technical issues surrounding the 64-bit OS and said the prerelease software is time-limited to expire in 360 days.
Waiting on Intel
Microsoft highlighted that the 64-bit edition is only compatible with computers running 64-bit AMD Opteron or Athlon 64 processors and cannot be installed on 64-bit Intel Itanium-based systems.
Kastner, who said there are only about 100,000 Intel Itanium 64-bit machines on the market, indicated 64-bit computing will not be truly significant for users nor for Microsoft until Intel commits more wholeheartedly to 64-bit computing.
"Very few consumer desktops can take advantage of 64-bit," Kastner said. "Intel has to drop the other shoe and deem that the broad, mass market for consumers is ready for 64-bit. I predict that will not be this year."
64-Bit Demand
Analysts agreed that demand for AMD's 64-bit Opteron and Athlon 64 is rooted less in a desire for 64-bit computing and more for the chipmaker's latest processors.
"It's not so much 64-bit as it is AMD's next-generation chip — which is better, faster and more efficient," Gartner research vice president Martin Reynolds told TechNewsWorld.
Kastner said AMD is selling a lot of its Athlon 64 chips because they are good 32-bit performers. The analyst also indicated that AMD fans are not likely to be chomping at the bit for Microsoft's 64-bit OS.
"I'd say that, as a group, AMD customers are more concerned about the late delivery of Unreal Tournament 2004 than they are waiting like Godot for Windows XP 64," Kastner said.