Microsoft on Wednesday showcased a new series of mixed reality headsets from partner firms Acer, HP, Asus, Dell and Lenovo at Computex 2017.
The preview marked the company's commitment to establish Windows 10 as a leading driver of mixed reality capabilities, as well as to open up the market to a wider variety of price points and consumer demographics.
"These devices, coming to market this holiday, use Microsoft's platform to enable a single and consistent user interface, standardized inputs and a universal app platform for developers," noted Peter Han, vice president, partner devices and solutions, at Microsoft.
At Microsoft Build, held earlier this month, Alex Kipman previewed Windows Mixed Reality developer kits for the new headsets from Acer and HP. The Acer Windows Mixed Reality Headset Developer Edition is available for US$299, while the HP Windows Mixed Realty Developer Edition is available for $329.
Both devices use inside-out tracking, which negates the need for IR emitters or external cameras. Developers can begin to code immediately with a Windows 10 Creator's Update PC and a headset right out of the box.
Both devices also feature 1,440 x 1,440 high-resolution liquid crystal displays, a 90-Hz display refresh rate, build-in audio and mic support, single cable with HDMI 2.0 and USB 3.0 for connectivity.
The response has been positive, Han said.
Affordable and Light
---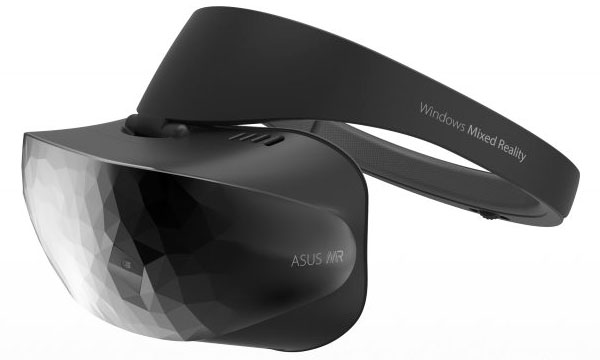 Asus Windows Mixed Reality Headset
---
Asus has added to its line of Oculus-ready ROG gaming desktops and VR-ready Vivo-PC X. The new head-mounted unit features a polygonal 3D cover panel and ergonomically adjustable strap that allows single-hand setup.
The headset is designed to be powerful, HMD fast and very light with a six-degrees-of-freedom tracked motion controller.
Dell, building on its VR leadership in high-end gaming, has developed an affordable gaming headset that comes in white with a weight-balanced headband for long-term comfort, a flip-flop visor for easy removal, and cable routing to free the user from wires.
---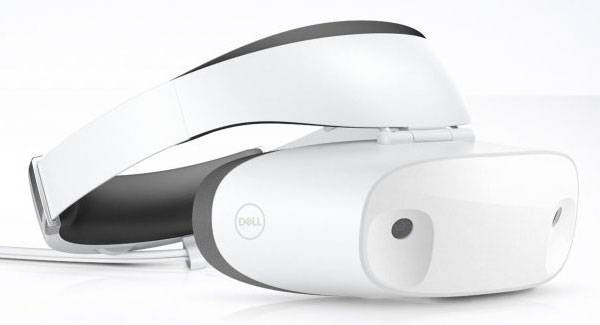 Dell Windows Mixed Reality Headset
---
The device will be ready by the upcoming holiday shopping season.
Lenovo later this year plans to launch an affordable mixed-reality headset with built-in sensors for inside-out tracking and simplified setup.
Potential but Risky
On the surface, the new Windows devices will have several advantages over the rival HTC Vive and Oculus Rift brands for the personal computer market, according to Piers Harding Rolls, director of games research at IHS Markit.
For starters, the new Windows devices will come in with price points starting at less than $300 — significantly cheaper than the rival devices — due to the production efficiencies this new set of manufacturers can employ, he told TechNewsWorld.
These new device makers also have massive go-to-market capabilities, according to Harding-Rolls, offering more exposure to VR for PC-based consumers than ever before. In addition, the inside-out tracking technology negates the need for additional sensors around a room, and the headsets can run on relatively low-powered Windows-based computers.
On the flip side, there may be confusion in the marketplace among buyers who are new to VR, Harding-Rolls said.
"First, the name 'mixed reality' on its own is likely to cause confusion for the consumer that is only beginning to understand virtual reality," he explained.
Consumers may buy these headsets expecting to use their existing computers and think they can play the best VR games, which would be possible only with a powerful computer system, Harding-Rolls pointed out.
The small amount of content currently available poses another potential pitfall for OEMs trying to build demand for these products, observed Rob Enderle, principal analyst at the Enderle Group.
"It all really hinges on how much money and resources Microsoft puts behind the product," he told TechNewsWorld.
Still, Microsoft may be onto something with its push for mixed-reality devices, said Ted Pollak, senior gaming analyst at Jon Peddie Research.
"At some point in time, the user will decide how much real or virtualized world to tune in and out of the field of view of their display," he told TechNewsWorld. "Virtual and augmented reality then simply become different points on the computing spectrum."