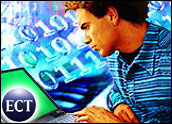 Ever wonder what the favorite search engine is of workers at Microsoft? Or how much online shopping is done by White House staff?
Those are just a few of the questions that can be answered by a quick tripto VisitorVille.
Launched this week, the Web site is operated by World Market Watch, a Webanalytics firm in Shepherdstown, West Virginia. The company monitors some5,000 Web sites for its subscription-based customers, providing them withdetailed information about their online traffic.
The detailed data about individual Web sites remains exclusive to World Market Watch's customers; VisitorVille makes public more general types of information about the users who access those sites.
"From that specific datathat only [our customers] can access, we pool everything together, clean it so it's notpersonally identifiable and there's no sensitive information in it, then wefigured out what organizations or companies visited these people's Websites," Robert Savage, CEO of World Market Watch and self-appointed mayor ofVisitorVille, told TechNewsWorld.
Company-Specific Information
"Nobody offers the company-specific information that we do," he asserted.Other analytic firms offer generic information — the percentage of peopleusing Firefox worldwide, for instance. "Our data here is the percentage ofpeople using Firefox at Apple Computer or the New York Times or any of the200,000 companies we have in our database," Savage said.
Incidentally, according to VisitorVille, Firefox isn't listed as a browserused by Apple employees — who primarily use Safari to roam cyberspace — and2.33 percent of Web surfers at the New York Times use Firefox.
Information at the site is organized into three categories: behavior ofvisitors (average time per visit at a site, average number of pages visited, etc.); search engines used by visitors; and system information (cookiesenabled, operating system used, screen resolution and more).
Demand for Numbers
There's a huge demand for online customer numbers right now, and it's growing,according to John Mellor, vice president for marketing for Omniture, a majorWeb analytics firm in Orem, Utah. "The online channel for many types ofbusinesses, not just retail, is becoming more and more important," he toldTechNewsWorld.
"The good news is that the online component is infinitely more measurablethan the offline part of these businesses," he added.
Companies are seeing huge growth in revenues in their online channels, so itonly makes sense that merchants want to understand the nature of thattraffic. "That's what Web analytics is all about," Mellor said.
Free Lunch
Given the hunger marketers have for numbers like those at the VisitorVillesite, one would think a company would try to turn a buck for theinformation. "We were going to charge for it, but then we thought, let's beaudacious and give it away," Savage said.
The response to that move was overwhelming, he said. "In the last 12 hourswe've had over 50,000 people come to the site," he said. "It's overwhelmedthe server, and it's only the second day."
"It indicates that this data is a lot more interesting to people than weexpected," he added.
White House Shopping
Asked what kinds of information in the database intrigued him, he citedbrowser usage and monitor resolution. At Google, 100 percentof the people use the Google search engine.
However, "At Microsoft, the majority ofpeople use Google instead of MSN," he said. Google also has a substantialfollowing at search engine competitor Yahoo, where almost 30 percent ofworkers use Google to access the Web sites VisitorVille monitors.
He also noted that at Google, a large percentage of the people have high-resolution monitors. "That indicates to me that they're investing a lot infancy monitors, so they have a lot of money flowing in for that sort ofthing," he reasoned. By comparison, at the White House, half the people havemonitors with 800-by-600 resolution, which would indicate that they haveolder computers.
Are they using those computers to buy merchandise online? "Sorry, no dataavailable on this company/organization for this specific topic," respondedVisitorVille. Quipped Savage, "I think they just get everything for free."