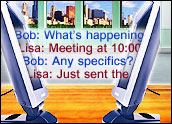 It might be a year or more away from actual release, butMicrosoft is letting beta testers use its "power"instant messaging technology with voice and video capabilities, the company announced this week at the Fall 2004 VON Conference in Boston.
Microsoft said the new client for its LiveCommunications Server (LCS), codenamed 'Istanbul,'represents its vision for next-generationcollaboration and communication. Built aroundMicrosoft's Office system, the new software willprovide integrated communication that includes instantmessaging (IM), extensible presence, PC voice andvideo, and telephony.
Microsoft said its Istanbul beta program is openfor nominations through its account managers and salesrepresentatives, and that release of the software isexpected in the first half of 2005.
Unified Experience
Radicatti Group industry analyst Genelle Hung toldTechNewsWorld that the announcement, which comes longbefore the release and wider use of the product, wassomewhat late from Microsoft, which nonethelessappears to be on the right path with the strategy.
"It's a bit early to tell [how successful it willbe]," Hung said. "It's not meant to come in and takeover everything, but I think this is taking businesscommunication to the next level."
Microsoft said Istanbul would enhance real-time collaboration by adding more data, such asout-of-office information.The company also said the new software would ease theuse of integrated communications by consolidatingapplications into a single interface that bringstogether messaging, conferencing and traditionaltelephony.
"Istanbul represents a milestone by integratingvarious modes of communications in one unified desktopexperience," Anoop Gupta, vice president of Microsoft'sreal-time collaboration (RTC) group, said in astatement.
Announcement of Power
Radicatti Group's Hung said the Istanbul technology,described for now as an announcement of anannouncement, is meant to replace MSN chat and WindowsMessenger.
Hung complained that Microsoft had not releasedvery much information on the technology, which might notreach market until next year or even later. However,Hung did praise Microsoft for producing a compellingbusiness communications solution.
"All of their ideas are really quite good," Hungsaid. "It's really tailored to the enterprise user."
Watching and Waiting
Hung also said Microsoft was bringing its integratedcommunication strategy to the game later than others,but added that the software giant appears to have benefitedfrom staying on the sidelines.
"They haven't spent all that time waiting fornothing," she said. "Microsoft LCS is trying to gaugethe response to [other efforts] and tailor that to thepower user."
Hung, who called simplicity and ease of use themost important factors in Istanbul's success orfailure, said the vision of truly integratedcommunication — which would allow a mobile phone callfrom a laptop at a coffee shop, for example — iscoming into focus.
Standard Issue
Microsoft indicated that the new Istanbul softwarewould be able to integrate with other SessionInitiation Protocol (SIP) and SIP for InstantMessaging and Presence Leveraging Extensions(SIMPLE) platforms, including those from AOL andYahoo.
However, integration with the Extensible Messagingand Presence Protocol (XMPP) — popular among the open-source community — will require additional gatewaysoftware, Microsoft said.
Hung said Microsoft has already signaled itssupport for SIP and SIMPLE, and he was not surprised bythe company's standard support in Istanbul. However,Hung added that it is still too early to predict howthe integrated communication standards will play out.