Microsoft has knocked US$100 off the price of its Intel-powered Surface Pro tablet, which features a full version of Windows 8. The discount comes on the heels of last month's price cut of its Windows Surface RT tablet.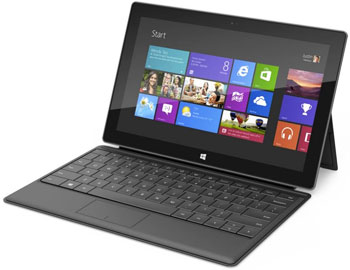 The offer, available directly from the Microsoft Store through Aug. 29, applies to the 64-GB and 128-GB versions of the Surface Pro. The 64-GB model will sell for $800, while the 128-GB version will go for $900.
In July, Microsoft offered a 30 percent price reduction for its Surface RT tablet, which is powered by an ARM processor and runs the Windows RT operating system.
"We've been seeing great worldwide success with Surface RT pricing and keyboard-cover promotions over the past several months and are proud to offer Surface Pro at more affordable prices starting today," Microsoft spokesperson Mimi Newman told the E-Commerce Times.
Multiple Cuts
Although this is the second price cut in the Surface line, the discounts may not spring from the same motives.
"The price cut to the Surface RT will be permanent — it simply hasn't sold well and has serious problems with its OS," said Jennifer Kent, senior analyst at Parks Associates.
However, Microsoft apparently is positioning the price cut on the Surface Pro as a temporary back-to-school deal, running only until Aug. 29, Kent added. With the next Surface not likely to surface until early 2014 it is likely this sale could be extended.
"Microsoft has not sold nearly enough tablets — of either variety — and I can easily see the Surface Pro reduction becoming permanent," Kent told the E-Commerce Times.
"It is possible the deal will indeed run out on Aug. 29, only to be reintroduced for the holiday season. A holiday price cut will help the Surface Pro better compete with the iPad and will help Microsoft clear its tablet inventory before the next Surface version."
Aggressive Push
Since its debut last fall, Microsoft's Windows 8 hasn't exactly taken off with consumers, but the Surface price reductions could help turn things around for its tablets.
"Typically when we see companies cutting price mid-cycle, the motivation is to move inventory and drive sales," said Rhoda Alexander, senior manager for monitors and tablets at IHS iSuppli. "That is seen when companies aren't selling as much as they would like."
There could be more to it, though.
"This strategy is twofold," said industry analyst Chris Silva of the Altimeter Group.
"It allows Microsoft to more aggressively push devices out the door to make way in the channel for any upcoming, new devices, while also allowing it to test a price point closer in line with a major tablet rival in the iPad," he observed.
"It seems to be a near-$1,000 tablet packing over 100-GB of local storage is a corner case for users that would be as well served with a laptop," Silva told the E-Commerce Times, "and potentially at lower price."
Hardware Hurdles
Microsoft has typically been a software vendor and has had middling success with its hardware offerings over the years.
"With the Surface and Surface RT, you have a company that has historically not done PC hardware suddenly doing PC hardware," Alexander told the E-Commerce Times. "This also put it at competition with its own hardware vendors."
'Total Disarray'
Whether its move into hardware is a good idea for Microsoft may be debatable, but it's clear its attempt at execution has been met with a slew of problems.
"Microsoft bit off more than it could chew when it entered the hardware business," said Roger Kay, principal analyst at Endpoint Technologies Associates.
"It alienated its existing hardware partners, set up shop without proper distribution, didn't account for scaling problems, and did a terrible job of product positioning and pricing," he opined.
"Add to that, the general awfulness of Windows 8, and you have a formula for disaster," Kay added. "The company is cutting price because it isn't selling units. This isn't a retreat, it's a rout — an army in total disarray."
Microsoft could regroup, though, and do much more than live to fight another day. The Surface Pro discount isn't necessarily indicative of a downward spiral.
"It actually doesn't portend one way or another. There just has been difficulty getting out of the blocks," said IHS iSuppli's Alexander.
"The entire PC market has been lagging, and Windows 8 has been lagging, so that is part of the difficulty in driving sales," she noted. "However, long-term trends will depend on what Microsoft does with Windows 8 moving forward."