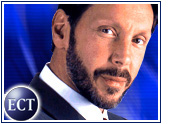 Technology stocks propelled the Nasdaq Composite Index higher at midday Thursday, as better-than-expected results and optimistic forecasts from technology companies, including IBM (NYSE: IBM) and Apple (Nasdaq: AAPL), led investors to believe that the worst is over for the battered sector.
At midday, the Nasdaq Composite was up 28.71 at 2,108.15, building on gains made Wednesday following a surprise rate cut from the U.S. Federal Reserve. Lower interest rates could help technology companies in particular, making it cheaper for them to invest in new computers and software.
Leading the Nasdaq index higher were tech bellwethers Oracle (Nasdaq: ORCL), up US$2.26 to $20.18, and Cisco (Nasdaq: CSCO), up 52 cents at $18.45.
Microsoft (Nasdaq: MSFT) and Sun Microsystems (Nasdaq: SUNW) also registered strong gains. Microsoft had risen $2.08 to $67.51, while Sun was up $1.12 to $19.70.
Dow, S Lower
Old-economy stocks, meanwhile, failed to sustain Wednesday's gains. The Standard & Poor's 500 stock index was down 1.32 at 1,236.84, and the Dow Jones Industrial Average was down 33.96 at 10,581.87.
IBM was up $7.35 at $113.85 after reporting an 18 percent rise in first-quarter earnings, along with a 9 percent increase in revenue. Officials reportedly stuck to their targets for the full year, saying they saw no reason to lower previous forecasts.
An upgrade to Goldman Sachs' recommended list also helped IBM shares.
Apple Back in Black
Apple rose $2.20 to $24.99 by midday after announcing a return to profitability in the second quarter after having posted a loss in the first.
The computer maker said that net income for the quarter totaled $43 million, or 12 cents per share, down from $233 million, or 64 cents, a year earlier — but better than the 1 cent predicted by analysts.
Revenue for the quarter fell 26 percent from a year earlier, to $1.43 billion.
Travelocity Posts Profit
The E-Commerce Times Index was up 3.06 at midday, with Travelocity (Nasdaq: TVLY) gaining 98 cents to $25.06 after reporting its first-ever profitable quarter.
Business software maker Siebel Systems (Nasdaq: SEBL) was up $7.16 to $41.14 after reporting better-than-expected results for the first quarter.
Business-to-business (B2B) company i2 Technologies (Nasdaq: ITWO), however, fell $3.52 to $16.45 after reporting first-quarter results that were in line with its lowered expectations, and warning of expected losses for the next couple of quarters.
Analysts at Salomon Smith Barney, First Union, US Bancorp Piper Jaffray and JP Morgan all reportedly downgraded i2 following the news.