MapQuest 4 Mobile Puts New Features on Map, but No Landmarks
MacNewsWorld

MapQuest 4 Mobile, an application from AOL, is available for free at the App Store. If an object is about the size of a small book or a deck of cards, and if it's not a piece of food, there's a good chance it may soon be rendered obsolete (or at least a little old-timey-looking) by a smartphone app. Book publishers already know they're about to see some strange days, and navigation device makers are already in misery. When Google came out with its free Maps Navigation app for the Droid last fall, Garmin's stock took a hit from which it's only recently recovered. That company and rivals like TomTom have gone to work making software for smartphones (and in some cases making disastrous smartphones of their own), so they seem to be aware that soon, fewer people will need a dedicated object used solely for the purpose finding their way around town.
These navigation device makers have had years to develop brand recognition, and when it comes to the App Store, most of them charge relatively high prices for the iPhone versions of their software. But Internet-based mapmongers -- ones that generally operate as Web sites rather than on-dash nav unit makers -- are selling (or in some cases, giving away) their wares on the iPhone too. MapQuest is in this space, and it's recently updated its MapQuest 4 Mobile app.
The Difference Between Map and Nav
There are actually two MapQuest items in the App Store: 4 Mobile and MapQuest Navigator. Navigator, the more full-bodied application, claims a price tag of just 99 US cents, but that's not exactly the true cost. After a month of use, it gives you options: Buy another 30 days for $4, three months for $10 or a year for $30. Whatever way you choose, you'll have to pay up.
MapQuest 4 Mobile, on the other hand, appears to be free once and for all. But don't think you're getting a free app that can compete head-to-head against the $50 or $100 software offered by the bigger players. There are really two types of applications you can get to find your way around. There are navigation apps like MapQuest Navigator, offerings from TomTom, or a few other pricey wares. Then there are mapping applications that show you how to get there but don't offer as much help along the way.
4 Mobile falls into the latter category, functioning much like the Google-powered Maps application that comes baked into every iPhone. Like Maps, you can search out places by name or address then get a set of directions to take you there from here. It'll use the iPhone's GPS to follow you as you travel along the path it's laid out. However, 4 Mobile has a few extra features that may make it more handy in certain situation.
An App of Few Words
What makes mapping wares less useful than the higher-priced nav applications when it comes to driving assistance is that with map apps, you only get a downward-facing directional view with a constant north-at-top orientation, rather than the "bird in pursuit" vantage common to nav apps.
What MapQuest 4 Mobile has added is a voice-directions capability. When you approach a turn you need to take to get to your set destination, it'll tell you so in a robotic, feminine monotone. That's a feature mostly found in full-blown navigation applications -- and those apps usually implement it better than MapQuest 4 Mobile does. It won't pronounce the name of the street for you; it just says "start out going East," "turn now" or "you're off-route."
Those cues make sense when you're staring at the map and have the phone's screen turned in the direction you're headed, but it's generally a bad idea to try and do all that while simultaneously driving a car. And if you're not driving a car -- if you're riding shotgun or using the app as a pedestrian, for instance -- then are voice directions really that necessary? You've got the map right in front of you; you don't need it to tell you that you've deviated from the highlighted path.
But if you do deviate, another new 4 Mobile feature will help you get back on track. The app doesn't feature automatic rerouting like a nav app, but it does let you do one-touch rerouting. If the voice scolds you with a "you're off-route," you get a pop-up option to download a new route based on your new position. This is a handier feature; if you go off-route in some other map applications, you have to flip through a number of screens in order to reset your course.
The Search Business
Searching for businesses in MapQuest 4 Mobile is simple if you know the name -- type it in, then click on any of several results arranged across a map of your immediate area. If you're looking for a particular type of business with no specific name in mind, a scrollable set of icons at the bottom of the map will point you toward local hotels, restaurants, gas stations and other types of establishments. You can highlight multiple icons at the same time. You can also get traffic conditions.
This search-by-icon feature sometimes works a little better than the built-in Maps app. Maps will search if you type in a category of business, but the quality of results varies. For example, searching for "parking" in Maps gave me lots of area restaurants and stores, most of which only allow their own customers to park in their lots. 4 Mobile's parking search turned up only public parking structures.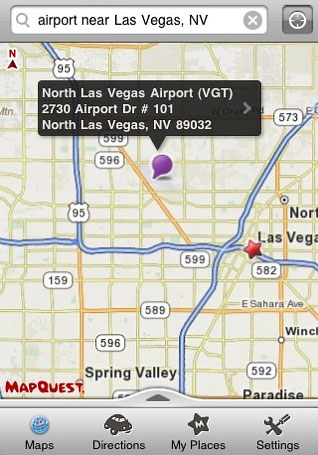 On the other hand, Maps does have clickable business names on the map itself.
4 Mobile also advertises a landscape mode, though I couldn't figure out how to activate that. There are also no satellite views in 4 Mobile, which Maps has.
As with just about any application that continuously uses the iPhone's GPS feature, MapQuest 4 Mobile will drain your battery quickly. If you're using it while driving, better get a car kit. 4 Mobile, however, does have a power-saving feature, which should extend its usability.
Bottom Line
MapQuest 4 Mobile may be free, but that by itself is no reason to let an app take up space on your iPhone. The question is, does this thing do its job better than Maps, the built-in app?
The answer is: not necessarily. 4 Mobile's two main draws are automatic rerouting and search-by-category. The first is handy when you get off-track; the second is good for finding establishments without having to guess at whether you're being specific enough for Google's liking.
But 4 Mobile doesn't have touches like satellite views, on-the-map listings, or the magnitude of Google behind its search functionality. Maps will remain my familiar go-to location-finder, but MapQuest 4 Mobile could make for a decent backup in certain situations.