Cool Hunting Puts Amazing Design in Your Sites
MacNewsWorld

Cool Hunting, an app from Captain Lucas, is available for free at the App Store. If you're a fan of any of Apple's products -- the iPad, iPhone, iMac, MacBook Air or even, say, the delightfully curved Magic Mouse -- there's a decent chance that you appreciate industrial design. Apple, perhaps more than any other tech gadget manufacturer in the world, has consistently delivered the kinds of evocative angles and slick materials that simply beg consumers to walk into Apple Retail Stores and start touching.
There's more to the world of design than Apple, however -- a lot more. And that's where the new iPad app Cool Hunting comes in. Cool Hunting is a website that I hadn't even heard of before stumbling upon its new iPad app. It's like a technology-enthusiast blogging site, except its focus is on inspirational design.
Its writers and editors find products and people with evocative design sensibilities and then celebrate them through lush photographs, text and video.
What's Covered?
Cool Hunting covers anything, it seems, that looks undeniably cool. That's a simplistic way of putting it, but I'm not a design aficionado -- just a guy who appreciates lines, curves and materials every now and then before I head to the kitchen to architect a sandwich.
Here's an example of an article: Audi teamed up with Portland bike builder Renovo to build a collection of handmade wooden bicycles, dubbed "Duo," which consists of a city, sport and road set of styles. Cool Hunting says, "Like all of Renovo's frames, Duos are progressively engineered to weather the elements and withstand impacts that destroy comparable bikes made from metal or carbon. With crisp, contoured lines -- its looks rival opulent yachts such as Marc Newson's Aquariva -- it's 'an heirloom you can ride' but one intended to be used for everything from commuting to exploring."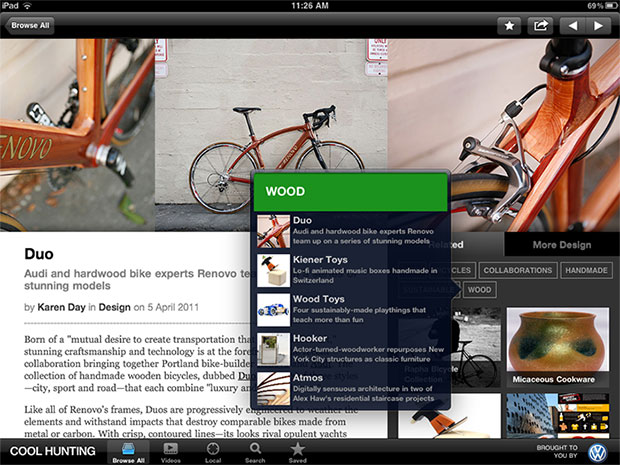 Of course, I'm far from the kind of guy who's going to shell out more than six grand on a wooden ride, but that doesn't mean I can't marvel at the audacity and vision it took to build these bikes. Moreover, if I were actually a serious biking enthusiast living in the city, I might spend less on gasoline and be able to buy one. Silly, perhaps, but there's a lot of wow packed into a useful form there.
Still, let me talk about the app, because it, in and of itself, is a work of art.
Simple, Dark and Bright
Instead of just creating an app that mimics the website, Cool Hunting turned to BBH to help with the design and Front-Ended to help with the development.
It features a dark or charcoal background that's heavy on modular photos and video. In landscape mode, which is where the app shines best, you can browse through the latest "posts" or drill down through categories like Design, Tech, Style, Travel, Culture, and Food + Drink.
Design can feature nearly anything, it seems, from interiors of automobiles to the latest "perfect spout" water bottle. There are head-turning chairs and furniture, of course, and sculpture, too, but much of the content is focused on things you can use -- like mini ping pong tables and iPod nano watchbands that actually look good.
You can scroll horizontally through all of these items, looking for something that catches your eye. When you tap a photo or headline, you can slide through luscious photos along the top portion of the "page" while scrolling through the article text in the bottom left portion.
The bottom right holds a box designed to help you discover additional, related content, with slick text buttons that match the main article -- things like Innovation, Materials, Outdoors, Spain or Video. Tap a button, and a pop-up "window" appears with a mini scrollable list of topic items. Below the buttons, you've got more enticing photos and headlines. And then this entire bottom right side box has another tab for another set of related content items.
If you navigate through any of these places too far, you can always use the back and forward arrows that are handily placed at the top right. You can also forward the content items you find to Email, Twitter, Facebook or Instapaper. When you find something that you really like -- say something that's either inspirational or something that affects your own design aesthetic -- you can hit a "star" button and save it to a saved area, presumably so you can easily find it again. I've only been messing around with Cool Hunting for a couple of days, so I don't yet have many starred/saved items.
Worlds of Video
Cool Hunting has lots of video clips, too. In one, you might get a tour of Oakland, Calif., led by local artists and business owners, while in another video, you'll visit Stockholm for the homecoming of Absolut Vodka's immense art collection -- and meet some of the artists. The content is all over the map, so to speak, but it's always all about great design.
The ads are minimal yet lush. In fact, I've only noticed one ad, really, and it's for Volkswagen. On the main page if you flick too far left, you see the ad -- a full-page ad for the all-new 2011 Touareg supercharged hybrid. The ad in itself is almost a work of art, with videos and descriptive, tappable elements to explore.
Extending the Brand
The key point that I actually appreciate most about Cool Hunting is that the company created an iPad app that extends the Cool Hunting brand -- and perhaps more importantly, the Cool Hunting experience -- to the iPad app. Despite all the great apps out there in the world, this level of synergy is rare.
As for potential readers and Cool Hunting app users, the app all boils down to this: If you like design and if you like visually exploring things, the free Cool Hunting app is worth some of your time. If you're actually a designer of some sort, I can only imagine that you'll find a kindred spirit with the people who make up Cool Hunting.