Zapd: Yes, You Really Can Whip Up a Web Page in 60 Seconds
MacNewsWorld

Zapd, an app from Pressplane, is available for free at the App Store.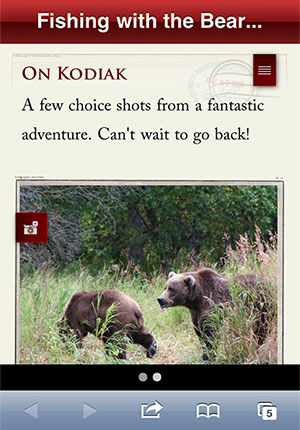 My Zapd site viewed on an iPhone
I ran into a surprisingly compelling app with a short, funny name: Zapd, by PressPlane. It's basically an iPhone or iPod app that lets you create snazzy-looking websites really fast. PressPlane says you can do it in 60 seconds from your iPhone, and if you're really warmed up and on a wicked fast Internet connection, sure, you can create a live site with a real
URL
in 60 seconds.
More realistically, you're looking at a couple of minutes. Yes, it's that fast. Here's how it works. First, select a prebuilt theme that gives you an idea how your photos and text will appear online. There are about 20 of them. I found a few of them to be a bit hokey, with terrible color schemes, but many others were either excellent or at least quite serviceable. I imagine that PressPlane will be adding more along the life of the app.
Next, you can use your camera on your iPhone to snap a shot that you can move (kind of like cropping) and zoom into instantly, or you can use photos already on your Camera Roll or in your Photo Library. When you select a photo, there's a space with light text that prompts you to "Add Caption." Tap it, and you'll get an onscreen keyboard.
Touch-type your caption, hit done. Now you've got a "modular photo element" (my description, not theirs). You can then also see the start of the framework for your page, because really, you're not creating a full-blown website -- it's more like you're creating a cool web page.
If you want to write something more than just a photo caption, you can write a blurb of text ... and that becomes another modular element on your page. If you want to create a special Web link, you can do that, too.
After you're selected your photos and added text, you can move the elements up and down by touching and holding, then moving a little graphic of three stacked bars to the right of each element. Took me a while to figure this out. I actually found it accidentally, well after I had decided that you had to enter each item in the order you want them to appear, top-to-bottom. Thankfully, you don't have to plan that well. You can update and enter items and then slide them to the position you want. It works pretty well once you understand it.
Publishing in Seconds
For my Zapd site, I created a quick page about a fishing trip I took to Kodiak Island in Alaska where there happened to be dozens of brown bears fishing, too. A crazy, thoroughly awesome trip. To make it live on the Web, you just hit a publish button ... and if you haven't signed up for Zapd, you have to drop in a name and email address, along with a password, and you're good to go. Zapd starts uploading your content. As near as I could tell, there's no end-user license agreement, no special fine-print legalese, just action.
And the result?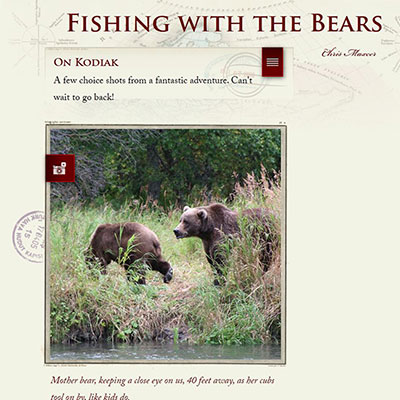 My Zapd site viewed in a desktop browser
A surprisingly good-looking site. You get a URL that looks like this: http://28jq.zapd.co/. And that happens to be the URL to the site I created. If you have a profile, you can show off your information to the side of your main content. For my site, I just left my name there, but you can publish more detail about yourself. Handy if you're looking to use Zapd for promotional purposes for a business, organization or yourself.
In addition to the Web page, there's a mobile version that's smart enough to serve up a smaller, iPhone-sized screen version of your Zapd site. It looks pretty good, and it will let you jump to the full site if you prefer all the nifty theme elements.
For sharing your Zapd site, the app shows you the url and it gives you a chance to connect to Facebook and Twitter if you're socially inclined. (In fact, according to PressPlane's blog, Zapd took off so quickly with Facebook fans in March that it apparently "blew up Facebook" ... their words, not mine.) You can also email your site URL to friends and family, as you might expect.
Totally Free
PressPlane says your Zapd sites are totally free. You bring the creativity, Zapd does the publishing. Nice. At the same time, there are many unanswered questions like, How long will your Zapd site live? Forever? Will Zapd eventually kill it? Will Zapd back it up? Can you count on Zapd to be there? Or are you just lucky if it continues to work?
How about advertising? Zapd is free and appears be to be the fruit of a small entrepreneurial startup crew. Will Zapd eventually start making money by offering adds? Will there be an opt-in? Or just ads that match your text? I don't know. I could not find anything on their website about it. I considered sending some emails to Zapd to get the answers, but I don't think the answers really matter much right now: Zapd is free, offers up a quick and easy service, and please don't complicated it with fine print. Ads will come or they won't. More likely, I'm guessing Zapd will amass a loyal following, then get bought for a princely sum of money from a bigger Internet player.
Moving On
Some of the other questions PressPlane has sort of already answered on Apple's information page about the app -- new features on the way:
Coming soon to Zapd: Select from even more themes, buy premium themes, choose a custom URL, create groups for sharing different Zaps with different people, allow others to edit and modify a Zap, post videos, comment on a Zapd from a mobile device, view a feed of other Zaps being created, etc.
That's a nice new set of features that should expand well on the solid foundation that Zapd created. The biggest question is how easy Zapd will make it to eventually share private websites. For instance, you don't want to share all family photos with the world, but it would be awesome to have a password-protected site that could act as a travelog -- that is as freaking easy to create as a current Zapd site.
Oh, one more point: The iPad version of Zapd is just like the iPhone version -- there's no extra special features, no pretty use of the larger screen. Either way, you can create some cool sites on the fly with your iPhone. Just remember they aren't private -- they're public in a big way. Even if you delete them ... and you can ... some server or user in the world could be holding a copy. Still, pretty awesome. Apple named Zapd App of the Week, and PressPlane deserves the notice.