After years of surprising the industry with its middling adoption, it appears that location-based mobile advertising is poised to come into its own.
U.S. mobile local advertising revenues will reach US$4.5 billion in 2014, up from $2.9 billion in 2013, according to BIA/Kelsey.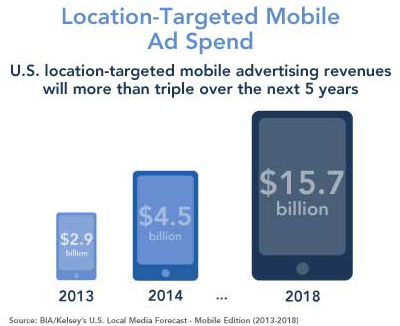 Mobile local ad revenues will have more than tripled by 2018, reaching $15.7 billion, it projected.
U.S. mobile ad spend is on an even steeper trajectory, according to BIA/Kelsey. It will grow from $11.4 billion this year to $30.3 billion in 2018.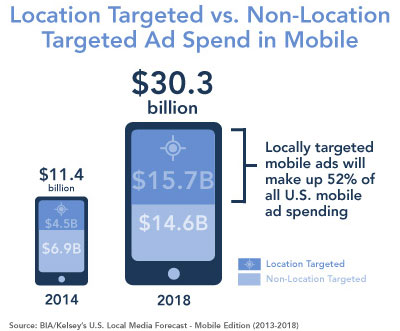 Still, locally targeted mobile ads clearly are moving fast. By the end of the forecast period, they will represent 52 percent of overall U.S. mobile ad spending, BIA/Kelsey projected.
Snail's Pace
There are a number of reasons for this growth spurt, but it took a long while for locally based mobile ads to get moving. This renaissance had been predicted for years.
"The adoption of location-based mobile advertising has been slower than predicted for a couple of reasons," Michael Boland, senior analyst and VP of content at BIA/Kelsey, told CRM Buyer.
One is that for years it has been associated with local businesses – which often translates in advertisers' minds as small businesses or mom-and-pop operations. They are nothing to sneer at, of course, but they don't lend themselves to images of high-tech ad and point-of-sale implementations.
National advertisers, as a result, haven't focused on the mobile-local piece as much as they have focused on national mobile campaigns, Boland said, "and most of the ad spending in mobile is national advertising — and it is done with the idea of building out brand awareness and scale."
That has not been location-based mobile advertising's sweet spot, he acknowledged.
New Technologies, New Lifestyles
New technologies and mobile ad platforms are causing a shift, Boland said. Facebook and Google have rolled out offerings in recent months. Technologies such as geofencing, click-to-call and click-to-map also are becoming more attractive to national advertisers.
Industry knowledge has matured, and advertisers are able to execute what they feel are effective campaigns using location-based mobile technology, Saurabh Bhatia, cofounder and chief business officer of Vdopia, told CRM Buyer.
"Mobile allows brands to execute national branding campaigns with local flavor," he pointed out. "Automobile brands … can now execute national dealership promotions and target them across the DMA where they have dealerships," he said. It means that retailers and restaurants with a national footprint can target certain states or DMAs or markets "without wasting dollars."
'Life Dashboards'
Another reason for the uptick in adoption is that advertisers finally are convinced that mobile ads, even those in the local genre, are important in order to capture customers' attention.
"In the early days, advertising was all about blasting advertising to the mainstream audience in a broadcast manner to reach the most eyeballs or ears," Ian S. Gertler, president and CMO of Symplegades, told CRM Buyer.
It is now clear that mobile devices — smartphones and tablets — have become people's "life dashboards," personally and professionally, he said. "The shift to always-connected and relevant is going to push the bar higher for local and mobile advertising. … Apps, social, data and cloud-based services [will] enhance and empower both businesses and the people they serve — if done correctly."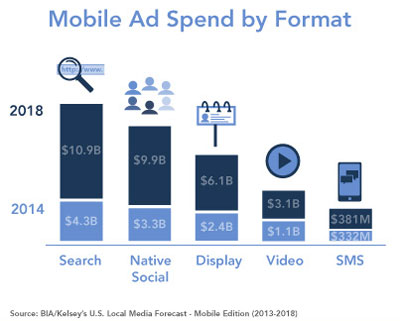 It also has become clear that there is no such thing as a national consumer any more, Jeff Fagel, CMO at G/O Digital, told CRM Buyer.
"We are all connected at a local level, from Procter & Gamble to Walmart, PetSmart, McDonald's and everyone in between," he pointed out. "Data and audience science targeting millions of micro segments have been the focus for years, but the missing piece is the local content — personalized messages."