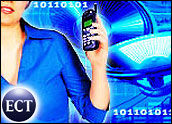 Consumers are saying that mobile music services are exceptionally overpriced — at least 85 percent higher than they actually feel comfortable paying.
A new research report by Strategy Analytics, entitled, "Mobile Music USA: Sprint Service Preferred to VCast But Price Premiums Too High on Both," indicates that very few consumers are willing to pay the current "price premiums" just to download music to their mobile phones. The researchers examined mobile music services run by Sprint, the Mobile Music Store and Verizon's VCast Music, the top two services on the market today.
"The current services — especially Sprint Music Store — meet or exceed user expectations in terms of performance and convenience," said Paul Brown, wireless analyst at Strategy Analytics. "However, price remains a considerable barrier to acceptance."
Mass Adoption 'Unlikely'
The end-user evaluation of full track music download services, showed that, at least for now, the Sprint service was preferred to VCast Music for both perceived network performance and ease of use.
Research suggests that users are willing to pay a premium of around 35 percent for the convenience of downloading tracks to both their wireless devices and PCs, according to Kevin Nolan, the director of Strategy Analytics' advanced wireless laboratory. "But that's subject to reliable network performance," said Nolan. "In our view, the current 100 to 150 percent premiums charged by the main operators make adoption of these services highly unlikely."
Though the analysts are skeptical, providers are moving forward with plans for more mobile music services.
Tokyo-based NTT DoCoMo and Microsoft said earlier this month that they will partner to provide mobile music services with DoCoMo's 3G handsets.
The software developer will enable NTT DoCoMo handsets to play music downloaded to a PC from "more than 100 online music services," the two companies said in a joint statement.
DoCoMo is Japan's biggest mobile phone operator by subscribers. The company will begin the music service with the new F902iS model mobile phone, to be launched later this summer.
Japanese mobile phone firms including rival KDDI are also accelerating efforts to offer new features to attract customers. Domestic competition is expected to intensify when number portability is introduced later this year — allowing users to keep their existing phone numbers even when they switch to other service providers.
Sony Interested
Other developers, like Sony, are moving into the mobile music downloading market. The interface on the new Walkman handsets works well for music searching and organizing collections, said IDC analyst Sean Ryan, adding that customers know and respect the Walkman brand, and music has become a strategic target for Sony Ericsson.
The Walkman W710i phone also includes a number of other features:
A motion sensor
Fitness applications to measure running speed, distance and time — or count steps
A 2 megapixel camera with zoom lens
A 512 megabyte memory stick for music or other data storage
An FM radio
The researchers at Strategy Analytics examined the emerging industry of mobile music, the distribution of songs to mobile phones, which is similar to the sale of music on iTunes.com to iPod users. However, ring tones — also on mobile phones — are not considered overpriced by consumers. They have become a $3 billion worldwide market, but it's a market that is nearing maturation, with growth rates expected to fall to about 20 percent this year after doubling in 2005. Accordingly, music labels are now preparing different types of music clips they hope consumers will buy to personalize other mobile phone features.