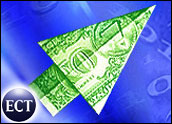 Eight of the 10 fastest growing retail sites on the Web are run by traditional retailers, according to a report released Friday by Jupiter Media Metrix (Nasdaq: JMXI).
The New York-based market research firm said that while pure-play e-tailers continue to hold onto the top four spots in its overall ranking, offline retailers gained fast during the week ended December 10th, the third week of the traditional holiday shopping season.
"Shoppers are increasingly turning to familiar brands with offline origins," Media Metrix measurement analyst Anne Rickert said, adding that traditional retailers are "helping online customers access a wider range of merchandise."
Strong Evidence of Trend
Other studies have cited traditional retailers as the big gainers so far this holiday season.
A report from Nielsen//NetRatings earlier this week said e-tailers with brick-and-mortar stores saw traffic rise 103 percent since the holiday shopping season began, compared with 77 percent growth for pure plays.
An earlier Active Research study found that many first-time Web shoppers are choosing to buy from sites with recognizable and trusted brand names.
E-tailers Hanging On
In terms of visitors, the most-trafficked retail sites remained the same from the previous week, with Amazon.com, Mypoints.com, Half.com and Bizrate.com holding onto the top four spots.
Walmart.com moved up from eighth to fifth, with 526,000 average daily unique visitors. Walmart.com saw week-to-week growth of more than 46 percent, making it one of the fastest-growing sites as well.
Other top gainers for the week included the online efforts of Eddie Bauer, Radio Shack, Columbia House, Barnes and Noble, Nordstrom and Kmart's Bluelight.com.
Books Back On Top
Meanwhile, books regained their title as the most popular e-tail category, pushing back ahead of personal computers, which topped the list for a week.
Overall for the week, online booksellers drew 2.3 million unique visitors, compared with 2.1 million users for the computers category. Online malls and consumer electronics sites rounded out the top four.
Buy.com had the most unique visitors of any company selling computers. Bizrate.com led the mall sector, Bestbuy.com topped the consumer electronics category and Barnesandnoble.com topped sites selling music.
Overall Growth Seen
The number of visitors to the 400 retail sites studied by Media Metrix grew 27.5 percent over the same week last year, with 34.9 million users this year compared to 27.4 million in 1999.
The growth among retail sites outpaced the growth rate for overall Web use during the period, which was about 20 percent.
Media Metrix said Ourhouse.com was the top-gaining retail site, recording a single-week growth of 415 percent.