CES may have begun as the Consumer Electronics Show back in the late 1960s, but since then its producer, the Consumer Electronics Association, has changed the show's official name to International CES, in part to reflect its expansion beyond TVs, stereos and appliances.
At 2014 International CES, now under way in Las Vegas, that shift couldn't be more clear.
On Monday evening, for example, Audi's Rupert Stadler, chairman of the board of management, made a keynote presentation, arriving on stage in a 1930s vintage Horch classic automobile alongside Gary Shapiro, president of the CEA.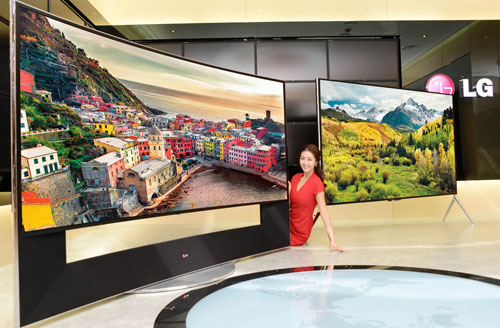 LG's new 105-inch curved UltraHD TV
Automotive technology was once well outside of the consumer electronics category, but this year it's been front and center, perhaps even trumping next week's North American International Auto Show in Detroit as the first true "auto show" of the year.
That's not to say that the more traditional forms of consumer electronics haven't been on hand this year. Smartphone and tablet factory revenue may have surpassed that of the traditional CE market in 2013, according to IHS iSuppli, but CES is still the place to be for a glimpse of the latest innovations in TVs, home audio and other entertainment devices, gizmos and gadgets.
The Play for the Display
This year the TV once again increased in size, led by giants LG and Samsung. Each company played a bit of one-upmanship by introducing large, curved OLED sets as well as a number of 4K (orUltraHD) models.
LG announced a total of 15 new product lines for 2014, and that followed its pre-CES announcement of three additional OLED models. As for big, LG announced a 105-inch curved model that will be available later this year for US$69,999. The fact that a price was actually provided suggests that, unlike other traditional "show-off pieces," this one could actually make it to market.
"There is no question that there is a lot of proof of concept at this year's show," Pete Putman, president of ROAM Consulting, told the E-Commerce Times.
The TV market is in flux due to eroding price points and too much supply, Putman added.
"There is really one thing that is motivating everything that is happening with televisions right now," Putman added. "TV sales have been declining worldwide for the last two years, and the only marketwhere there is growth right now is China."
In fact, "China is building a homegrown LCD TV manufacturing business, and they may even get into OLED," Putman suggested. "While Samsung and LG were trying to impress each other with who had the more impressive curved OLED, the Chinese really focused on 4K."
In the near future, "what you are going to see is that all TVs that are 60 inches or larger will become 4K," he predicted. "There is so little money in making 2K TVs — these have become commodities. Pretty much everything is 1080p except for some 720p sets in some bargain sizes."
Audio on the Sideline
While CES continues to get bigger each year, one notable trend this time around is that the show floor hasn't been nearly as loud as it has been in the past.
Part of that, of course, is surely a result of enforcement by show organizers to minimize the din, but the other part is that this year lacked any significant big announcements on the audio front.
Among those that were made were new speakers from Klipsh as well as a variety of home theater offerings from Philips — which continues to redefine the soundbar.
Headphones were big this year, and Sennheiser unveiled models aimed at DJs and gamers while Audio-Technica introduced nine new headphone models, including options designed for listening to music on portable devices. In fact, it is the "on the go" sector in which most of the audio buzz took place this year.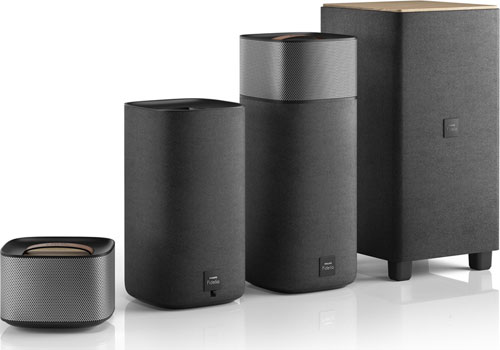 Philips Fidelio E5 wireless surround cinema speakers
"Audio is in regroup phase, and we will see more exciting things around Mobile World Congress, where audio will play a much bigger role," Roger Entner, principal analyst at Recon Analytics, told the E-Commerce Times. "We're moving from tin cans strung together to CD quality audio on portable devices."
Mobile Entertainment Makes an Impact
Portable devices and wearables, meanwhile, have been plentiful at this year's show.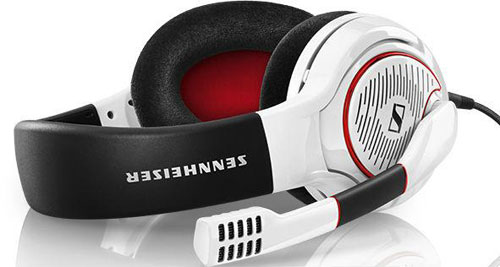 Sennheiser's G4ME ONE gaming headset
"What we are seeing this year at CES is a continuation of what we've been seeing at CES over the last couple of years when it comes to mobile entertainment," Jack Gold, founder and principal analyst at J.Gold Associates, told the E-Commerce Times. "That means more entertainment for 'me' personally as opposed to getting content over to the cloud wirelessly."
This year the innovation included a "lot more personal entertainment including wireless headsets and wireless speakers, as well as the ability to link these things up," Gold explained. "Wearables were also very hot at this year's CES. A lot of the wearables are very entertainment-oriented as well as fitness-oriented."