Moxie Software, a provider of enterprise social software, has updated its Spaces by Moxie suite of applications with new features in its Chat Spaces, Email Spaces and Knowledge Spaces modules.
Moxie Software's user base tends to be large B2C companies that have high-volume interactions with their customers, Chief Marketing Officer Tara Sporrer told CRM Buyer.
These companies want to differentiate their service as much as possible, and equipping their social customer service operations with high-end functionality — "that means service and support that can be provided across a range of devices and in real time," Sporrer said — is one of the ways they can achieve that.
Chat Spaces Enhances Mobile, Global Creds
Moxie made three major enhancements to its Chat Spaces module: It created a mobilized chat UI; it added real-time text translation to support multiple languages; and it increased its password protection capabilities.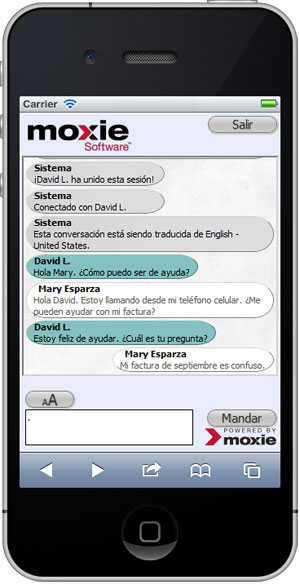 The new UI has several new features. It can recognize whether the user is chatting via a desktop, tablet or mobile phone and compensate for the screen size.
"Our customers have so many customers themselves with help requests coming in from any number of devices — this helps manage those interactions," David Lowy, vice president of product management, told CRM Buyer.
The UI also comes equipped with new wizards to customize the look and feel, and take advantage of new functionality that allows files to be easily uploaded during a chat session.
"This is important, because customers will oftentimes want to send screen shots of their particular problem or a photo of a product. It can be problematic if the rep has to log off the chat session to upload the file." Lowy said.
Capacity has also been enhanced to support a high-volume event like Black Friday.
Email Spaces: Better Handling and Processing
The upgrades to the Email Spaces are focused on improving the email-processing features and attachment-handling capabilities. For example, there is now additional support for mail format and languages, as well as better visibility into the progress of the email.
"Any agent can manage an email that is anywhere in the system with this change," Lowy said.
The upgraded attachment-handling capabilities are provided through a new Administrative interface that connects to a library of attachments.
Revamping Knowledge Spaces
The Knowledge Spaces module has been upgraded with a number of features including improved search functionality, improved content management, new APIs — and, again, improved password protection.
The search functionality has been upgraded to tweak results based on user-defined business rules.
The content management upgrade allows users to make changes throughout the knowledge base without having to tinker with individual articles.
"In a large-scale environment with tens of thousands of articles, this is absolutely essential," Lowy said. "We have added toolsets that allow an admin to make a change within minutes without having to touch any one piece of content."
The APIs focus on easing deployment and integration of the knowledge base, depending on the particular user.
"We developed these with an eye to making it as easy as possible for customers to manage and deploy the content in their knowledge base," Lowy said. A knowledge base works best "when a customer doesn't realize there is a knowledge base performing behind the scenes."