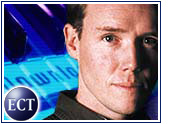 Online music provider MP3.com (Nasdaq: MPPP) said Wednesday it has removed pop-up window advertising and other ads from its music subscription service for which users pay monthly or annual fees.
MP3.com chairman and chief executive officer Michael Robertson said that MP3.com users "have made it clear that they want to escape pop-up windows." Robertson said he believes MP3.com is the first Web site to offer users a choice between a site with advertising and a subscription-based, ad-free version.
Subscriptions to "ad-free" MP3.com cost US$2.99 per month, or $29.99 per year, MP3.com said. The company's Premium Listener Service, announced in June after the settlement of multiple copyright infringement suits filed against the company, costs the same amount and provides the same benefits, although now it comes without ads.
According to MP3.com, subscribers to MP3's Plus Express service, which carries more than 1 million songs in addition to functions like CD burning, will now receive ad-free service as well.
MP3.com also said the new service will allow subscribers to build customized pages of favorite songs, concerts and the like.
French Connection
San Diego, California-based MP3.com has been a lightning rod for lawsuits from record labels, which have charged that the service encouraged copyright infringement.
Court fights have led to MP3.com paying $150 million in settlements, as well as the sale of the company to France-based conglomerate Vivendi Universal (NYSE: V) in May for $372 million.
The sale came after MP3.com agreed to pay Vivendi's Universal Music Group $53.4 million for copyright infringement. On May 2nd, Sony and Vivendi's Universal created Duet (since renamed Pressplay) and announced that its subscription service would launch shortly.
Fees, Not Free
More than one content provider — and several once-free Internet service providers — have moved to subscription models.
For instance, Salon (Nasdaq: SALN)has been experimenting with a similar ad-free format, offering a version of its online magazine that carries additional articles and nopop-up ads.
The content site, which also started charging for access to its discussion forums, said almost 12,000 people have so far opted to pay the $30-a-year subscription fee for the service.
Willing To Pay
A Jupiter Media Metrix survey released in July found that consumers are willing to pay for digital music services,following the end of the free file-swapping service provided by Napster.
Guaranteed sound quality, virus-free music files and high-speed transferconnection were cited as the top three incentives to subscribe to onlinemusic services, according to Jupiter.
Jupiter also predicted the market for online music will reach $6.2 billionby 2006, up from $1 billion this year.