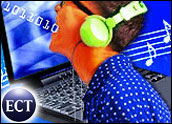 MusicNet, an online music service to be offered by America Online (NYSE: AOL) and RealNetworks (Nasdaq: RNWK) with backing from four recording companies, said Thursday that its technology is ready for distribution by the two media partners.
MusicNet said it is providing AOL and RealNetworks with "the entire technology and music content" from partners BMG, EMI, Warner Music Group and Zomba. The service offers streaming and downloading of content and peer-to-peer file sharing, and is capable of supporting e-commerce, account and copyright management as well as other functions, MusicNet said.
About 500 people — members of the press, analysts and those involved in the testing process — will get a "sneak peek" at the service beginning October 5th, MusicNet said.
"We wanted to give those close to the industry the chance to experience the MusicNet platform before the widespread consumer launch," said Richard Wolpert, strategic adviser to MusicNet.
Napster Moves Forward
The launch of the new platform comes days after music service Napster announced a settlement with a group of songwriters and music publishers over alleged copyright violations.
The settlement, which calls for Napster to pay US$36 million, could bring the music company a step closer to being reborn as a paid service. The Napster service, which was shut down following a court order earlier this year, was expected to launch a subscription-based version over the summer.
MusicNet will compete against Napster and Pressplay, a venture backed by Sony Music Entertainment and Universal Music Group. Pressplay's Web site says that the service plans to go live this month, offering music downloads via Yahoo!, MSN and MP3.com.
Analysts say that for any of the companies to succeed, they will need to strike licensing, copyright and other agreements with each other so they can offer broad selections from all five major labels. Napster, through a partnership with MusicNet, has access to music from BMG, EMI, Warner and Zomba.
Pay to Play?
However, it remains to be seen whether music fans will pay to download music, something that in the past they have gotten for free. In July, Jupiter Media Metrix said 59 percent of online music buyers would pay for downloads, though they said they would demand good service for their money.
Another survey, released in August by research firm GartnerG2, found that Internet users were reluctant to pay to download music. That survey found that while half of the 4,000 adults polled said they listen to CDs on their computers, most had not paid for digital downloads.
The results indicated that recording companies should "show some flexibility in their copyright-protection systems" or risk losing potential customers, GartnerG2 analyst P.J. McNealy told E-Commerce Times at the time.