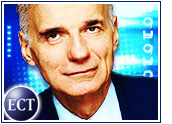 Consumer protection advocate Ralph Nader told the U.S. government Tuesday to consider curbing its technology spending with Microsoft in order to better control the software giant's "monopoly abuses."
In a letter to the Office of Management and Budget (OMB), Nader and James Love, director of the Consumer Project on Technology, outlined their concerns and requested more detailed information on OMB's spending with Microsoft.
Nader pointed to the amount of time the U.S. Department of Justice has spent in court trying to curb Microsoft's business practices. Hesuggested that the problems of improving technology innovation, security and pricing could be solved by decreasing reliance on the Redmond, Washington-based company.
'Passive Consumer'
"The federal government spends billions of dollars on software purchases from one company that is continually raising prices, making its products incompatible with previous versions in order to force upgrades, deliberately creating interoperability problems with would-be competitors, and is well known for engaging in many other anticompetitive practices," wrote Nader.
"Would a business that was spending this much money be such a passive consumer?" he asked.
Nader founded the Consumer Project on Technology in 1995 to monitor consumer intellectual property rights as well as healthcare, electronic commerce and competition policy.
Opening Volley
Love told the E-Commerce Times that the letter was the advocacy group's opening volley. He said the group's new focus on government procurement could significantly change how software is purchased by federal agencies and could influence competition in the market.
"The government is spending a lot of money trying to change the way Microsoft acts. Why wait a decade through a whole series of judges and appeals?" asked Love, noting that procurement policy has been used in the past to influence the auto, airline and pharmaceutical industries.
"I think the U.S. government is the only consumer on Earth that really has the clout to do what should be done," he added.
Microsoft as Proprietary Solution
Besides the question of how software in general is purchased by the U.S. government, Carl Howe, research director at Forrester, told the E-Commerce Times that he also questions why software is treated differently than other proprietary products.
"There are a lot of government contracts that say you are not allowed to purchase things that do not have more than one source," Howe said. "The multiple sourcing requirement is well known for government contracts, and that's to ensure you have ongoing supply.
"Strangely, nobody perceives Microsoft in that way," he added.
Spending Details Requested
The letter also requested that the OMB disclose the amount of money the U.S. government has paid over the past seven years to license Microsoft Windows, as well as how much it would cost to purchase code for office productivity packages, such as word processing programs, spreadsheets or e-mail clients.
A Microsoft spokesperson told news sources the company believes that if Nader were better able to analyze the software industry, he would discover Microsoft offers the most advanced technology at a modest price point.
Interoperability Sticking Point
Tuesday's statements echoed an earlier letter sent to the Department of Justice by Nader in January regarding the proposed settlement with Microsoft, which emphasized interoperability issues.
"Microsoft regularly punishes consumers who buy non-Microsoft products by designing Microsoft Windows or Office products to be incompatible or non-interoperable with competitor software, or even older versions of its own software," Nader wrote at the time.