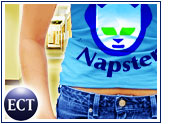 Napster, a subsidiary of Roxio, has announced that the Napster 2.0 online music service went live to music fans across Canada today at Napster.ca. Napster 2.0 provides both an on-demand music subscription service — Canada's first — and an "a la carte download" store.
Napster 2.0 allows subscribers to listen legally to more than 700,000 tracks online. For those who want to buy songs to burn to CD or transfer to portable players, Napster Light offers free 30-second samples of the Napster catalog and the opportunity to buy singles or albums. Napster is promoting its official launch in Canada by offering all residents a free seven-day trial to its subscription service.
But given that the competition for digital music fans has been distinctly heating up over the past several months — with iTunes still in the lead and allofmp3.com, a Russian site, offering music for roughly 5 U.S. cents per track — Napster's success globally is anything but certain.
Official Launch with Partnerships
The official Canada launch of Napster 2.0 follows completion of agreements with all five major record companies — BMG, EMI, Sony Music Entertainment, Universal Music International and Warner Music International.
After downloading the Napster jukebox and paying CDN$9.95 per month, Napster subscribers can listen to the digital music catalog on-demand. Users also can buy any track they choose by downloading it to their hard drives and paying CDN$1.00 per song.
Ten interactive advertisement-free Napster radio stations — much like competing service Rhapsody from RealNetworks — allow listeners to see which song is coming next, skip forward or jump back, with favorites easily added to their Napster library. Napster can build subscribers their own custom radio station on the fly simply by selecting three songs.
Napster's community features — much like MusicMatch and iTunes — let subscribers browse each others' playlists and share songs among other Napster users.
Purchasing Tracks
This new Canadian pricing structure, while compatible numerically with the equivalent in the United States — the standard rate being US$9.95 per album at most online music stores — translates into US$7.26 at today's exchange rate, still a far cry from allofmp3.com's roughly 75 cents per album.
Napster Light users can organize their music collection in Napster by using the ripping software built in to the Napster jukebox to take tracks from CDs they already own to play on Napster, import MP3s into their Napster Library or transfer tracks they've bought to portable devices.
Napster has forged partnerships with several industry players, including Microsoft, so fans can listen to music in the living room via Microsoft's Windows XP Media Center, or on the move with the Samsung Napster digital audio player as well as 60 other WMA-compatible devices that have digital rights management capabilities.