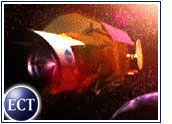 NASA is reporting that one of its space telescopes has discovered what scientists believe might be the youngest planet ever identified, at less than 1 million years old.
In its first major findings, announced Thursday, the Spitzer Space Telescope also has shown that protostars, or developing stars, are quite common and that the planetary construction zones around infant stars have considerable ice that could produce future oceans.
Spitzer is an infrared telescope that has been orbiting the sun and studying the universe since last summer. It did not actually "see" the young planet, but yielded evidence that enabled scientists to infer its existence.
The young planet is in the constellation Taurus, 420 light-years away — quite close by astronomy standards. It is believed to be on the inner edge of a planet-forming dusty disk that encircles a 1-million-year-old star.
By comparison, the Earth and the rest of the solar system are 4.5 billion years old. And, up until now, the youngest planets observed around other stars were a few billion years old. Anne Kinney, director of NASA's astronomy and physics division, likened the preponderance of protostars to the prevalence of cicadas in the trees.