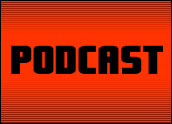 A City of San Francisco systems administrator is a living testimonial to the importance of preventing any one person in an organization from having too much power.
Terry Childs, who is now in jail, holds in his brain the passwords that will let city officials access San Francisco's Fiber Wide Area Network. Apparently, Childs was cheesed off that his supervisors tried to fire him for poor job performance, so he created an account that gave him exclusive access to the network, then refused to tell anyone the password.
Under questioning, he gave the police some passcodes, but they turned out to be fake — so unless he can cough up a cool five mill for bail, Childs continues to languish in the slammer. And Childs' colleagues — yeah, they haven't fired him yet — continue to try to crack his password.
Just goes to show you, a guy's job performance may have little to do with his actual ability to do his job.
---

Listen to the podcast (12:36 minutes).
---
Czar, Anyone?
Cyberterror is becoming an issue in the presidential campaign, with Democrat Barack Obama playing one-up on the Bush Administration.
The president's US$30 billion plan to improve network monitoring just doesn't cut it, said Obama, who proposed the appointment of a National Cyber Advisor position reporting to the president.
Currently, the highest-ranking IT security person in the federal government is under the Department of Homeland Security. Republican John McCain has a plan as well, and he'll tell us what it is — just as soon as he can figure out how to use Google.
'Horrible' Musical
Joss Whedon, the force behind "Buffy the Vampire Slayer," has created a mad doctor with a bad case of evil-genius-wannabe inferiority complex as the centerpiece for his new Web-only musical, "Dr. Horrible's Sing-Along Blog."
Reviewers have been raving about the show since its launch this week. In fact, it grabbed so much attention that when Act 1 went live, the swarm of eager viewers crashed the site's servers.
Whedon came up with the concept for the show during the Hollywood writers' strike. Recruiting some actor friends — including "How I Met Your Mother's" Neil Patrick Harris — and putting up his own money for the project, he shot the show on unused Universal Studios lots. "Dr. Horrible" is the latest example of unique media content — largely free of studio interference and unsupported by traditional marketing — making its debut online.
It joins a list that includes "Quarterlife," the brainchild of "Thirtysomething's" Zwick and Herskovitz; Will Ferrell's Funny or Die Web site; and the Web-only episodes of the CW network's teen drama "Gossip Girl."
Act 2 of "Dr. Horrible" is now available online, and Act 3 will go live on Saturday. The show is also available on iTunes. Have a wicked time watching.
Console Confab
The gaming industry held its annual E3 show-and-tell conference this week and, like last year, it was a cloistered affair designed to keep insiders in and keep people who merely enjoy the products out.
Oh well, perhaps that's the only way to get any business done when the alternative is to deal with hordes of craven fanboys groping for whatever free schwag they can get their hands on.
Nintendo highlighted the WiiMotion Plus, an upcoming attachment that refines the Wii console's motion-sensing abilities. Microsoft announced a streaming movie deal with Netflix along with some other new entertainment features, while Sony gave its PlayStation Network a new video download store.
The 'G' is for Glitches
The iPhone 3G went on sale a week ago, and by Monday Apple claimed to have sold 1 million of the things. Last year, it took 74 days to sell the first million original models.
What's new with the iPhone? 3G network capabilities, GPS, the option of a white-colored model, and a headphone jack that doesn't require a $20 adapter to use most headphones. What's the same? Lines. Users who simply must have it first lined up around Apple and AT&T stores again this year — and just like last year, there were some technical problems.
This year's activation hiccups mainly occurred in stores rather than in users' homes, though, so that meant waiting in line to get one took even longer. Love hurts.
It's the Outlook, Stupid
Investors sent eBay shares down nearly nearly 14 percent despite impressive second-quarter earnings. eBay turned in a 22 percent rise in profits for the quarter, with most of the growth stemming from its Skype and PayPal businesses.
It's ironic that eBay's shares were under pressure, as the 43 cents a share return beat analyst expectations by two cents. But that wasn't enough to offset its disappointing guidance for the third quarter.
The company's outlook calls for adjusted earnings of $1.72 to $1.77 a share for the rest of the year. After taking into account the Q2 gains, those numbers are basically unchanged from the company's forecast three months ago. Revenues rose 20 percent over last year — but that was the slowest pace in the company's history.
Eating Tiffany's Breakfast
On a brighter note for eBay, a U.S. district judge has ruled against luxury jeweler Tiffany in its four-year-old trademark protection lawsuit against the auction house.
The judge found that that eBay's process for removing suspected counterfeit items from its site was sufficient, and that Tiffany bears the lion's share of responsibility for watching over its brand in cyberspace.
The judge agreed with eBay's contention that it should not be obliged to pre-emptively remove counterfeit items merely on the basis of its own doubts over their authenticity. The ruling is a rare win for eBay in this rapidly evolving area, and it could have an impact on related legal challenges overseas. European courts have already found in favor of LVMH group, Moet Hennessy Louie Vuitton, and Rolex in trademark lawsuits against the sale of counterfeit goods.
Apple's Fury Unleashed
First it looked like a hoax, then it looked like a scam. After a few days it looked like it could be the real deal. Now it looks like dead meat. Psystar is a Florida company that made quite an impression a few months ago when it went live with a Web site offering a computer called the "OpenMac."
It was a white box running Mac OS X Leopard, in apparent violation of Apple's licensing restrictions. That product's name was quickly changed to "OpenComputer," and the business's stated address quickly changed a few times as people tried to figure out whether it was for real or not.
A few brave souls placed credit card orders, and when they got their computers in the mail, they turned out to be real, working desktops. Fan's kinda loud, but they apparently did the job.
But what about Apple — wouldn't it have its lawyers just descend on this outfit with subpoenas, baseball bats and flame-throwers? Well, now they finally have.
Not only has Apple filed a lawsuit meant to sue Psystar's pants off three times over, but it's also requested a recall of all the computers the company sold.
Think you can keep that Psystar desktop you thought was a bargain?
Tell you what — just give Apple your address and they'll send you a CD. Run the CD on your OpenComputer, it'll brick the machine, and you're off the hook. Then we can pretend none of this ever happened.
The Real Deal
Cloned Macs might be having a bad week, but things are looking bright for Apple's real computers.
The company is scrapping with Acer for third place in the U.S. PC market, behind Dell and HP. Research firm Gartner says Apple's there already; IDC says not quite but almost. Either way, that's a big step up for Apple.
Both research firms have the company making huge gains in sales since the same quarter last year. Sales grew over 31 percent since the second quarter of 2007, according to IDC, while Dell, for example, grew just over 12 percent. On the worldwide stage, though, Apple didn't make the top 5.
Run-Up to the Showdown
In less than three weeks, Yahoo's shareholders are scheduled to meet, and the drama meter is heading into the red zone.
In the latest flurry of wheeling, but not dealing, Microsoft and billionaire investor Carl Icahn submitted a joint offer to buy Yahoo's search business last weekend that was summarily rejected.
Yahoo fired out a press release that same day, claiming that Microsoft and Icahn gave it less than 24 hours to accept the offer and made fundamental terms nonnegotiable. Yahoo also said the deal would have put inexperienced executives in charge of the company.
Microsoft sent its response across the wires on Monday, asserting that Yahoo Chairman Roy Bostock was the one who actually initiated the idea of the partial purchase and that it was not a take-it-or-leave it ultimatum. Bostock encouraged CEO Steve Ballmer to draft a proposal, Microsoft claimed, but then Yahoo immediately rejected and ridiculed the offer.
Microsoft also said its proposal did not include any changes to Yahoo's management. If Microsoft is telling it like it was, it seems there's some internal dissent brewing among Yahoo's upper brass — a dangerous sign this close to next month's shareholders' vote. Microsoft has washed its hands of Yahoo so many times they must be pretty raw by now.
Now there are signs Redmond is talking with Time Warner's AOL about a possible combination that could let it walk away from Yahoo for good.
FCC Takes a Stand
Ever since the Associated Press discovered that Comcast had been throttling the connections of some of its customers — the ones who the company thought used more than their fair share of bandwidth by spending too much time with BitTorrent — the company has become a whipping boy for consumer groups who called its actions illegal.
Comcast — and other cable Internet service providers who are fighting for their right to tinker with the pipes — say it's the only way to provide fair service for all their customers. Now the chairman of the FCC has chosen a side — he wants to clearly prohibit Comcast from blocking Web traffic between peer-to-peer networks.
The recommendation still requires action from the full commission, but if it's approved it could set a major precedent.
Fees Terminated
Chalk up a point for U.S. wireless customers. Although it hasn't admitted any wrongdoing, Verizon Wireless has agreed to pay $21 million to settle a flurry of lawsuits alleging its early termination fees were unfair.
The settlement covers a California-based class action and a variety of cases pending in other parts of the country. The decision follows Federal Communications Commission hearings held in June to look into the fees.
FCC Chairman Kevin Martin voiced his concern that they were not being used to offset costs but were a means of locking consumers into a service provider.
Wireless operators argue the fees help recoup subsidies the companies offer customers when they purchase a mobile handset with a standard two-year contract. Meanwhile, Sprint is awaiting a verdict in a similar case in California.
Also in this week's podcast: Microsoft expands Live Mesh beta, colored dyes boost solar panels.