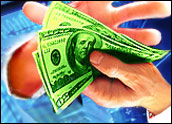 Internet service provider (ISP) NetZero (Nasdaq: NZRO) announced late Wednesday it is pruning its staff by 26 percent and cutting back on its free Internet service in order to decrease costs and improve financial results.
Westlake Village, California-based NetZero said it is reducing the number of free Internet hours that subscribers receive from 40 hours per month to 10 per month starting on October 1st.
Additionally, NetZero's free service is being scrapped altogether in outlying areas where "high telecommunications costs make the free offering cost prohibitive," the company said.
"Our goal has always been to provide consumers with a quality product while creating value for our stockholders," said NetZero chairman, president and chief executive officer Mark R. Goldston. "The current dynamics of the online advertising market require that we reduce our reliance on advertising revenues."
NetZero and rival Juno Online Services (Nasdaq: JWEB) announced in June that they would merge later this year in an all-stock deal worth US$70.7 million.
Free Samples
In addition to its free service, NetZero offers a service called NetZero Platinum for $9.95 a month. NetZero Platinum does not have the banner advertising window included on NetZero's free service and has faster page loads than NetZero's free service.
In addition, free users who desire to extend their monthly session for more than their alloted hours can elect to purchase an "Extended Access Pass" for $9.95, which currently provides them with unlimited access on a monthly basis. Goldston said NetZero planned to offer its free subscribers the opportunity to sample NetZero Platinum without obligation during certain periods in September.
"This will provide us with an opportunity to further grow our billable user base and increase our revenues," Goldston said. "To the extent users elect not to subscribe to NetZero Platinum, we believe the changes to our free offering will result in a significant decrease in our telecommunications costs," Goldston said.
During June, only 210,000 of NetZero's 3.4 million users were paid subscribers. The company also said that in June, approximately 30 percent of its free users accessed the service for more than 10 hours and that approximately 8 percent of its users accessed the Internet from outlying areas where the free service will now no longer be available.
RocketCash Sold
NetZero also announced that it had sold its RocketCash business unit, but declined to announce the buyer or the selling price. RocketCash is an online payment and loyalty rewards service that allows teens to purchase goods online without credit cards.
NetZero's staff reduction of 66 employees includes 27 RocketCash employees, who will remain employed at RocketCash under its new ownership.
"The decision to re-size our employee base was extremely difficult," Goldston said. "However, these actions, including the divestiture of RocketCash, are necessary steps that will enable us to streamline our operations and sharpen our focus on our core Internet access business."
Born Free?
NetZero — which used the slogan "Defenders of the Free World," from 1999 through early this year — joins BlueLight.com in reducing free ISP service.
Bluelight, the online arm of national discount retailer Kmart (NYSE: KM), announced Monday that it will discontinue its basic ISP service, which supplies 12 hours of access per month for free, on August 29th.
BlueLight.com and Kmart also said they were teaming up to launch a new unlimited access Internet service plan for US$8.95 per month. The companies said that the offering will be tied into their online shopping rewards program, allowing customers the opportunity to get free monthly Internet service in return for buying products through the BlueLight Web site.