TreeHouse Interactive has rolled out an enhanced version of its Marketing View application, infusing it with advanced reporting and analytics features and a spruced-upped user interface.
The point of the upgrades, said Erich Flynn, CEO of TreeHouse Interactive, was to provide and display all the necessary campaign-related statistics a marketer would need to judge the performance of a campaign.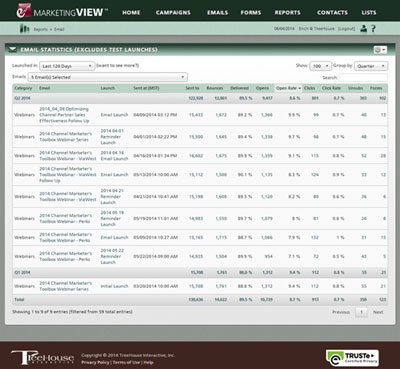 (click to enlarge)
The company also focused on the usability of the application — especially the user interface, which can display a vast array of data via drill-down tools.
"We made some enormous strides in terms of usability," Flynn said.
3 Areas of Focus
The enhanced application has a number of new features, but three core changes include the improved comparative email campaign reporting, new Action Studio comparative email campaign reporting, and the improved individual email campaign statistics.
In general, the new changes fall under a larger umbrella with a theme that can be summarized as the ability to create and then analyze campaigns smarter, faster and more precisely.
Users are better able to compare performance metrics across campaigns with the enhanced version, for example. They are able to capture more data and create reports faster, thanks to the new grouping flexibility, instant report pop-up views, and advanced search and filter functionality.
New sharing features allow users to more easily export results data, as well as share chart and graph-based reports.
They can better understand email interactions and behaviors in their target base, in part because of the extensive drill-down capabilities into such minutiae as how many click-throughs one recipient has logged. Other ways a user can slice and dice a target base is by OS or device.
Users are able to test email campaigns faster as well.
Campaigns That Deliver the Best Value
In practical terms, these features allow marketers to figure out which campaigns are providing the best value, Flynn said.
The improved comparative email reporting feature is an example of that, he noted. As the name suggests, the feature compares email campaigns against each other and delineates how well each performed by quarter or other time frame, or by category or selected emails.
The New Action Studio Email Campaign reports compare nurturing campaigns, compare node performance and email version performance.
The individual email statistics break down user data based on time spent with an individual client, email clients, device types, OS platforms, form conversions, forwards and social share media.
"Being able to see, for example, which emails from which campaigns were opened the most on an Android platform versus an iOS platform is invaluable date for a marketer," FLynn said. "So are the metrics that show that a consumer spent 10 seconds reading an email after opening it, versus one second reading an email from another campaign."
Creating New Campaigns
Another piece to Marketing View is the toolset for creating campaigns, namely the testing of these campaigns before they are sent.
Action Studio's enhancements provide a platform to send test emails, both transactional and marketing.
Finally, the user interface bundles this data into an easily digestible view, Flynn said. "Our ability to drill down into detailed information is unmatched in the industry."
A user can select a name from a list and view the person's profile, view every email that individual has received, learn which were opened and which weren't, view every link the target clicked on or didn't click on, the white papers downloaded, and the campaigns that arose — all without leaving the interface, Flynn explained. "The user never has to navigate to another screen or application."