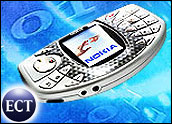 Nokia announced today that the latest addition to the N-Gage platform, the N-Gage QD game deck, started shipping today for markets in Europe, Africa and Asia Pacific. With a street price starting at EUR49.99 in some markets, the N-Gage QD game deck is designed to bring consumers mobile gaming in a compact package with a new ergonomic design and enhanced gaming features.
The N-Gage QD is a compact device with a hot-swappable multimedia (MMC) slot for instant gaming, longer battery life, improved gaming controls, brighter screen, powerful smartphone features and the new N-Gage Arena launcher application. Gamers will be able to play all of their favorite N-Gage titles, connect to the worldwide mobile gaming community over mobile networks via the N-Gage Arena as well as take part in close-range mobile multiplayer gaming via Bluetooth wireless technology.
Available in specialist game shops, as well as mobile operator outlets, the N-Gage QD game deck supports existing N-Gage game titles as well forthcoming N-Gage exclusive titles like Ashen, Pathway to Glory and Pocket Kingdom: Own the World, and blockbuster hits like The Sims Bustin' Out, Crash Nitro Kart and Tiger Woods PGA Tour 2004.
The new N-Gage Arena launcher makes accessing the N-Gage Arena easier than before, said Nokia, with direct access to the N-Gage Arena community directly from the game deck. N-Gage Arena members can communicate with one another, download exclusive content, access rankings statistics, participate in events and activities, and more.
The N-Gage QD game deck also supports advanced smartphone features such as personal information management, XHTML browser, e-mail and the possibility to download and install additional Series 60 applications.