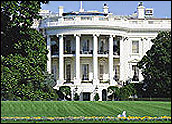 The Obama techies had their fingers on the switch on Tuesday, and at precisely 12:01 p.m. Eastern Standard Time, they threw it. The Bush administration's WhiteHouse.gov underwent a Cinderella-like transformation and joined the Web 2.0 era.
There's a White House blog now, if you can imagine that, and a page that will host video of the president's weekly address to the nation. And you can sign up to get e-mail alerts. Those things are all a step up from the static old Whitehouse.gov, but the most substantial change is the addition of a page that will display new legislation awaiting the president's signature. Citizens will get to review and comment on pending laws for five days before Obama puts ink to paper.
The practice, which will be followed for all nonemergency legislation, reflects the new administration's faith in the wisdom of the crowd. It will be interesting to see whether the crowd influences the president to rethink his stance on any measure. Should that occur, it would amount to something like open source lawmaking, wouldn't it?
---

Listen to the podcast (12:58 minutes).
---
BlackBerry Brouhaha
Nobody's going to tell the most powerful man in the free world that he can't have his BlackBerry. That was presumably the message that President Obama's security advisers got.
Famous for his attachment to the Research In Motion device, Obama resisted giving it up, despite concerns over national security and his own safety. The president evidently prevailed, arguing that he needed to keep in touch with friends and advisers outside the West Wing. It's reassuring that the U.S. national security apparatus can secure a device that will meet everyone's needs.
It's not necessarily going to be a BlackBerry, however. The Sectera Edge is a similar device that also includes access to private government networks and encryption protocols that would drive a Ukranian hacker batty. Whatever it turns out to be, President Obama will be the first president to use a smartphone in office. Isn't it great to be an American?
Rare Redmond Layoffs
Some people just like to see the mighty stumble. When the mighty is Microsoft, its detractors usually react with glee. But there's not much gloating over the news that Redmond will be handing out pink slips to 5,000 of its employees — an historic first that suggests the sky might really be falling in the tech industry.
Microsoft itself seems a bit dazed by the situation it finds itself in. The company missed sales and earnings expectations in its second quarter and is facing at least two more quarters of decline. Don't expect any good news out of Redmond in the months to come, either.
Microsoft said it won't be issuing any further guidance unless it's to lower expectations even more.
The New Motorola?
Most everybody's taking some hits due to the economy, but some companies have stronger bulwarks. Sony Ericsson doesn't appear to be one of them.
It lost 187 million euros — that's in the vicinity of US$248 million — in its fourth quarter. During the same period a year ago, it posted a profit that equaled nearly $500 million. Now, if Sony Ericsson had something like the iPhone, it would doubtless be telling a different story. Or if it had something like the BlackBerry Bold or even Samsung's BlackJack.
There's still fairly strong demand for those high-end smartphones, Forrester analyst Charles Golvin told us. All Sony Ericsson has in that category is the Xperia. I'm not saying it's not nice — I'm just saying, the what?
YouTube Keepers
Good news for people who think there's something on YouTube worthy of repeat viewings: The video-sharing site, which normally delivers content through streaming, now offers the option of downloading certain videos to your hard drive.
This development was ushered in by Mr. Change himself, President Barack Obama, whose ChangeDotGov YouTube videos were among the first with the new option.
Really, though, users have been able to download YouTube clips for a while using third-party software like browser plug-ins or Real Player, so hopefully that's not the biggest change Obama will bring about in the next four to eight years.
Chips Are Down
Even as Barack Obama was sending hopewaves across the world with his inaugural address, Wall Street investors had a pretty bummer attitude as far as the microprocessor market was concerned.
Intel went ahead and cut prices on some of its products — a move the company insisted was totally routine — and instead of going "Yay, cheaper chips will sell better!" shareholders went "Boo, cheaper chip aren't as profitable!"
Intel's stock took a nearly 6 percent dive, and Wall Street decided to also kick around AMD, ON Semi and Fairchild Semi just for good measure.
Insight 64's Nathan Brookwood noted that price changes happen all the time for a lot of reasons, and that cheaper chips don't necessarily mean computer makers lower their prices. They just build more powerful computers that can be sold at the same price as the old ones. The sell-offs, he said, were both predictable and misguided. Seems like there's a lot of that going around.
IBM Whiplash
It was the best of times and the worst of times for IBM, and that was just two days. Actually, it happened the other way around: One day, IBM is being threatened with antitrust action in Europe, and the next it's reporting better-than-expected earnings and sparking a rally on the New York Stock Exchange.
The antitrust issue stems from a complaint by IBM competitor T3 Technologies, which makes mainframe computers. The Florida company claims IBM is monopolizing the mainframe market by bundling its own operating system with its hardware.
T3 filed its grievance with the European Commission, which will investigate and issue a ruling. It's the same process that resulted in that fat antitrust ruling against Microsoft last February — and that outcome might have emboldened T3, technology attorney Raymond Van Dyke told us.
The news of the complaint dragged Big Blue's stock price down by about 3 percent, but the slump didn't last long. While T3's lawyers were doing their thing, IBM's executives were warming up for their fourth-quarter earnings report.
The company saw strong profits for the quarter — very strong, all things considered — and delivered a favorable outlook for 2009, predicting earnings of more than $9 per share for the full year. Wall Street was hungry for some good news, and Big Blue helped propel a Dow gain of nearly 300 points.
All the Pretty Things
The 2008 holiday season was a time most consumer electronics makers would probably like to forget. Overall: Awful. But for Apple specifically: Not too shabby at all.
In the company's first quarter, which ended Dec. 27, Apple pulled in $1.61 billion in earnings, up from $1.58 billion for the same period in 2007. It moved 23 million iPods, 4.3 million iPhones, and 2.5 million Macs.
That's all from a company that's selling some fairly pricey stuff during a recession. But no company is at this point golden, not even Apple. We're not nearly out of the woods yet, economy-wise, rivals are ratcheting up competition with the iPhone, and the SEC has come knocking again — this time apparently inquiring as to how exactly Apple disclosed information about the health of CEO Steve Jobs, who's now on medical leave.
Prolific Parasite
Time to get your PC checked for worms. There's a new threat squirming through Windows as we speak — not really that new, actually, it just has a new way of getting around.
The latest version of the Conficker worm, also known as Kido, aka Downadup, can now spread via USB thumb drives, and security firm F-Secure estimates it's infected at least 8.9 million computers so far. There's a patch available — go get it if you haven't already. It's not entirely clear what Conficker does, exactly, besides multiplying and doing things to keep itself from being noticed or removed.
But think of it this way: If you found out you had a tapeworm, even if it wasn't causing you any pain, wouldn't you want it gone?
Marketing Mayhem
If you want your products to get positive reviews, then Michael Bayard is the kind of guy you want on your marketing team. However, if you also want to keep your credibility, then maybe you should look somewhere else. Bayard was busted by a little-known blog, the Daily Background, which discovered a job he posted on Amazon.com's Mechanical Turk service.
The service pays people small amounts for little tasks, like conducting a Web search. Bayard thought it would be a good idea to post a job writing positive reviews.
Writers didn't actually need to own a Belkin router in order to write their glowing commentaries, but they did have to give it five out of five stars. Any reviewer who felt especially generous could mark a couple of negative reviews as "not helpful" at the same time.
The Daily Background's report got picked up by some of the larger tech blogs, and before you knew it, Belkin's president was posting a letter on the company's site apologizing for Bayard's actions. What was the going rate for those bought-and-paid-for deceptions? 65 cents. Cheap bastard.
Cut the Card
Do you have a credit card? Did you use it at any point in the year 2008? If the answer is yes, then you may want to consider asking your provider to send you a new one. If they ask why, just say "Heartland sent me." Heartland Payment Systems processes credit and debit card transactions for hundreds of thousands of businesses, and they just disclosed what could be the mother of all security breaches.
Looks like a hacker busted into Heartland's systems sometime last year and pulled out a couple few credit card numbers. How many exactly? Nobody's quite sure yet, but it could range in the tens of millions. Heartland says they were just credit card numbers, though, not Social Security numbers, which means the really horrible, screw-you-over-for-the-next-20-years forms of ID theft aren't likely to happen due to this lapse.
No, if you're a victim here, it's more likely some shyster's just going to try to buy something using your credit card, which you can find out about quickly enough by keeping an eye on your monthly billing statements. Or just get that new card. By the way, Heartland says it was totally PCI DSS compliant at the time of the breach, so don't be too rough on them. This could happen to just about anyone you hand your credit card over to.
Also in this week's podcast: European Union going after Microsoft; Cisco invades the server segment; gaming sales remain strong.