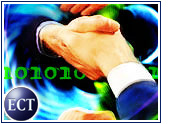 Primedia, Inc. (NYSE: PRM), the New York City-based publisher of such magazines as "Seventeen" and "Modern Bride," has announced it will buy Internet portal About.com (Nasdaq: BOUT) for approximately $690 million (US$) in stock.
About.com operates targeted Web sites, while Primedia publishes magazines aimed at such niche markets as teenagers, new parents and car enthusiasts. The companies said they expect to take advantage of the many niche crossovers between their properties, including the planned link of About.com's pregnancy, infertility and adoption Web sites with Primedia's "American Baby" magazine.
"These synergies exist across all of About's 700 topic sites and Primedia's 700 niches," the companies said.
Primedia chairman and chief executive officer Tom Rogers compared the deal to the proposed merger of America Online and Time Warner, which are in a bid to create the world's largest network of online and offline properties.
Inside the Deal
About.com shareholders will receive 2.3409 Primedia shares for each of their shares, with Primedia issuing a total of 45.2 million shares. About.com shares soared on the news, gaining 3 1/16 to 26 15/16 early Monday.
About.com will cease to trade on Nasdaq after the deal closes, with the combined companies trading on the New York Stock Exchange under Primedia's PRM ticker. About.com chief executive Scott Kurnit will keep his title after the merger, and will also become chief Internet officer of Primedia.
Primedia, which was founded by buyout firm Kohlberg, Kravis, Roberts & Co., has 1,600 salespeople and 60,000 advertisers.
According to Rogers, applying the Primedia sales force to About's targeted Web sites will drive Primedia magazine subscriptions on those sites, and will reduce About's marketing expenses. The move will also decrease Primedia's spending on Internet businesses.
The combination will "yield a high-growth formula," Rogers said.
The companies expect to complete the deal during the first quarter of next year. Beginning immediately, however, Primedia will promote About.com across its media properties, and sell advertising on some of About.com's sites.
Ready for Take-off
Before items, the merger should enable the combined company to earn $47 million more per year than what each alone would have achieved, said Rogers, who called his estimate "conservative."
Primedia had 1999 sales of $1.7 billion. The company publishes more than 220 magazines, in addition to operating about 300 Web sites and other Internet properties. According to Media Metrix's September rankings, About.com is the seventh largest Web property.