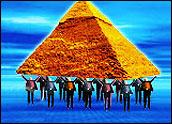 One of my favorite lines from the original "Conan" movie came when he was asked "what is the best in life?" Conan's response: "To crush your enemies, see them driven before you, and to hear the lamentation of their women!"
Maybe I watch too many old movies, but I could swear I saw three companies channel Conan recently.
Last week, there were two big announcements, and I got my first formal interview with Michael Dell (I don't do many interviews as a practice). Looking underneath the skin of all three events, there were some excellent lessons on competition, winning, and jujitsu strategies.
Each company is showing some amazing intelligence by not attacking competitors where they are strong but on using their unique strengths to take advantage of their competitor's weaknesses. God save us if any one of them actually starts learning from the others.
I'll look at some of the broad lessons surrounding EMC and IBM's events and some of the hard-learned lessons Michael Dell has been showcasing over the last couple of years.
I'll close with my product of the week: an amazing digital camera from Panasonic that seems to eclipse the rest of the field.
Michael Dell: How to Kick Ass and Take Names
Over the years, I've watched IBM try to beat Microsoft and fail; Netscape try to beat Microsoft and go out of business; Apple try to beat Microsoft and almost go out of business; both Google and Microsoft try to beat each other and waste billions; RIM, Nokia and Palm try to beat Apple and die — or almost die; and any number of companies try to beat IBM, and that didn't go well either.
Michael Dell spent much of the last decade learning the hard way that fighting against other companies' strengths isn't a winning strategy. So he sat back and thought about the companies that were his competition and discovered a number of truths. Most were not very good in the mid-market, most were increasingly tied to aging legacy technologies, and most couldn't execute a successful acquisition to save their lives.
So he first crafted a methodology for making successful acquisitions — success defined by taking what he bought and making it vastly better, rather than the more typical outcome of blowing the acquisition up. Then he helped define a process that involved Dell looking at up to 250 startups a year and specifically selecting those that both filled gaps and leapfrogged the competition. Finally, he created a structure that would induce the stars he acquired to stay on throughout the fight.
The end result is a Dell that looks little like the PC-centric company that exited the last century. Instead, it is now strong in servers and storage and gaining strength in networking. It has also made huge advances in appliance-based systems management.
Rather than building the next IBM or HP, Michael Dell is building what these firms could have been had they started with a clean slate in this decade. Rather than chasing these companies, he is trying to go where they are eventually going — just taking an acquisition shortcut to arrive first. This isn't without risk, because he has to blaze a trail — but it has a far greater chance of success than chasing these firms from behind.
Dell has set the gold standard for making acquisitions this decade, and Michael Dell plans to pound his competitors with this advantage.
EMC: Turning the Channel Into an Offensive Weapon
Last week, EMC launched VSPEX and it is a vastly different beast than your typical enterprise effort. What makes it different is that even though it is driven by EMC, the solution is designed for channel partners like Ingram Micro.
You see, these companies are increasingly faced with vertically integrated suppliers that take these channel partners out of the services business, swipe the customer relationships, and put them at risk of becoming obsolete. For instance, NetApp's solution is fully cooked, so the channel can provide little or no value while waiting for NetApp to gain enough size to make the channel partner extinct.
With VSPEX, what EMC has done is create a platform that it can ensure for quality, while allowing the channel partner enough choice to provide sustained value. VSPEX isn't an end-customer solution from EMC; it is a solution for the channel, which then owns the customer relationship, allowing firms like Ingram Micro to go head-to-head more successfully with vertically integrated OEMs by offering a best-of-class response that feels like an integrated offering.
The whole industrial revolution was built on this model of specialized skills and tools being combined to build something that is better, faster and cheaper. This new platform joins VCE — the joint project between EMC, VMware, Cisco, and Intel — as one of the most unique product approaches that has ever entered the market.
EMC's sustaining advantage is that it has learned to listen, which is resulting in products its competitors simply can't conceive.
IBM: One Idea to Rule Them All
However, the biggest news came from IBM, and it woke me up to the idea that it may be playing for all the marbles. IBM originally owned the technology market when it brought out the mainframe computer, and it is on the cusp of a breakthrough that could let it to own the market again.
What IBM announced last week was a platform called "Expert Integrated Systems." Now we've heard about expert systems for decades, and they generally fall far short of expectations. However, like a lot of things — remember when tablets sucked? — that was then, and this is now.
Recall that IBM has the only artificial intelligence division in any company in its class, and that IBM has the only remaining global lab that does a massive amount of pure, as opposed to applied, research. This is for the big plays — the ones that can turn a market. Like big earthquakes, they don't happen very often — but when they do, they can shake up the world.
The AI division is Watson, which is already demonstrating it can diagnose rare diseases accurately (this technology may save our lives). Its Expert Integrated Systems line is the first line of products that actually thinks, can partially self-configure, self-administrate and self-optimize. Even though this is a first-generation offering, it is realizing massive improvements in implementation times, efficiency, performance and overhead.
IBM is currently the only company among its competitors not only with a major AI effort but actually bringing AI products to market both in line and as focused (healthcare, legal and I expect, defense) offerings. It could well take the majority of the market, turning the other vendors into gap fillers — like in the '70s.
Wrapping Up: Lessons Learned
Dell is showcasing that one of the best ways to compete is to figure out where the other competitors are going in terms of products and solutions and get there first. EMC is demonstrating the old rule of leverage: If you can get a whole class of increasingly disenfranchised companies to back you, the combined scale should be unbeatable. IBM is taking a shot at winning all the marbles by attempting to bring out a technology that could obsolete virtually everything else in its market.
Each company is playing from its unique strengths: Dell from its new-found skill of excellent acquisition identification and execution; EMC from listening to what the partner wants and delivering it; and IBM for pushing R&D to the bleeding edge and then implementing a decade before anyone else can.
They are all playing smarter, and that likely bodes well for the U.S. technology industry — at least until these firms slam together in combat. Now that'll be interesting to watch.
Product of the week: Panasonic Lumix DMC-ZS20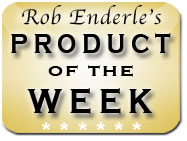 I attended an AMD Trinity prelaunch event last week, and one of the other analysts had the Lumix DMC-ZS20 camera shipped to him at the hotel. This is an impressive piece of tech. It is handheld and fits in a pocket, but it still sports a 20x optical zoom to 24mm wide angle on Leica lenses, which is just amazing for the price.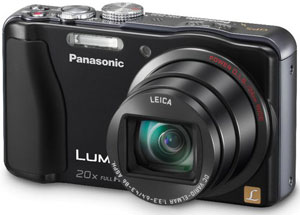 Panasonic's Lumix DMC-ZS20
It has built-in GPS for auto-indexing pictures with location and landmark information for full geotagging, as well as full 1080p HD video recording. This is a 14.1 megapixel camera with built-in video noise reduction. It'll do HDR (several pictures are shot at different exposures and then merged to create the perfect shot).
In video mode, it will run up to 220 frames per second to capture high-speed events. It has built in creative control for on-camera video editing, and it has an intelligent digital zoom that effectively doubles the optical zoom range.
It even has built-in stereo microphones and a 3-inch touchscreen display. Oh, and it can be programed to recognize individual faces (like your kids) and prioritize them over other faces in a group. Your child always looks best in your pictures! Did I mention it'll take 3D shots as well? The only thing I'm missing is an X-Ray function, but that'd likely just get me in trouble.
You can find a more detailed review here.
It is not often someone brings something to an event that I just have to have. The Panasonic Lumix ZS20 is apparently on special on Amazon for US$322 in black (the silver one is $26 more) and because it caused me to drool, it is my product of the week.