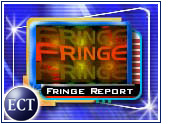 ---
Originally published on December 12, 1999 and brought to you today as a time capsule.
---
At noon on January 1, 2000, Mitch Maddox is going virtual. He will give uphis real world life and disappear into a cyberworld to prove that he canfill all his needsvia e-commerce for an entire year.
At the fateful hour, Maddox will enter a two-bedroom house inDallas, Texas with nothing but a computer, and he will cease to be MitchMaddox. As cameras in every room roll, and the whole world watches, MitchMaddox will join the elite few who are known universally by one name and onename only.
Madonna. Cher. Monica. And now DotComGuy.
The E-Commerce Times asked the crucial question: "Do you have asignificant other?" DotComGuy laughed and said, "No, I don't have agirlfriend." We countered by asking if he would find one online, since hecan have visitors.
"No," insisted DotComGuy. "Any woman who visited me would have to keep hermakeup on, since the cameras are always watching."
Well, not always. DotComGuy, who legally changed his name earlier this year,can cap the camera in his bedroom at night. He can also cap the camera inhis bathroom, although we do get to watch him shave and brush his teeth."Don't worry," DotComGuy assured us, "This is familyentertainment."
Bright Idea
Maddox, a 26 year-old systems manager, came up with the idea of living lavida e-commercefor a year and told his childhood friend, Len Critcher, who was in LosAngelesworking in the entertainment business. Critcher loved the idea and movedback to Dallas to form DotComGuy, Inc. with Maddox.
"We're two guys who love the Internet and love new technology," Critchertold the E-Commerce Times. "We want to create the ultimate forum for thefuture."
DotComGuy will not leave the house for one year, except for a medicalemergency or a death in his immediate family. He will purchase all of hisfood,furniture, entertainment and clothing over the Internet. Cameras willstream the video of DotComGuy's life at the DotComGuy.com Web site.
Critcher and Maddox have lined up sponsors for the project, includingGateway Computer, Mall.com, Peapod.com and others.
Hefy Salary
DotComGuy will receive a salary that doubles each month that he stays in thehouse. January's salary will be a hefty $24 (US$), but after doubling eachmonth, he'll rack up $98,304 for the year. He will be able to strolloutside to a backyard with a stream, but the cameras will be pointed thereas well.
The DotComGuy project may be viewed as an experiment in the variety ofservices the Internet can deliver to support and enhance our lives. However,Critcher and Maddox stress that it is not an experiment at all — it's ademonstration. "There's nothing experimental about this," said Critcher."We already know he can order everything he needs to live."
"We want to demonstrate the basic public nature of e-commerce,"Critcher added. "DotComGuy will set up a business online. He'll find vendorstodevelop products and he'll demonstrate how easy it is to start a site."
DotComGuy, Inc. will use its public attention to create a forum one-commerce, which will include inviting industry leaders to come visit anddiscuss e-commerce issues. "We think our site canbecome a catalyst for e-commerce. As soon as there is something I can'tfind online, companies can come in and supply what's missing," said Mad –DotComGuy.
Finally, we asked DotComGuy if he is apprehensive about hisleap into a full year of virtual life.
"Actually, I don't have time to think about it," he said. "We've been toobusy talking to the press and getting the production crew set up."