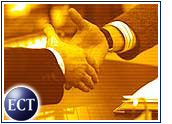 ---
Originally published on December 1, 1999 and brought to you today as a time capsule.
---
Number one online auctioneer
eBay, Inc.
announced today that it has granted an external search service the right todisplay auction information from its Web site.
The licensing agreement with AuctionRover.com, Inc.allows the five-month-old startup to showcase information from eBayauctions within certain limitations.
The announcement comes less than a month after eBay moved to deny AuctionWatch.com similar accessafter negotiations to reach a licensing agreement suddenly collapsed.
"It appears that we have no choice but to exercise self-help measures toprotect our interests," wrote Michael Jacobson, eBay's vice president,general counsel.
What Is Public Information?
Predictably, AuctionWatch.com CEO Rodrigo Sales expressed dismay overthe action and said that his company is pursuing legal action to regainaccessto eBay. The basis for AuctionWatch.com's claim, he added, was that the dataoneBay's site is on the Web for anyone to see.
Additionally, Bidder's Edge, Inc.,a Burlington, Massachusetts-based online auction service, is using the samerationale to justify its decision to ignore eBay's cease and desist order –withwhich it had initially complied.
Bottom Line
As far as eBay is concerned, the issue is simply about protecting itsbusiness interests.
According to eBay spokesperson Kevin Pursglove, the company offered the samebasic contract that AuctionRover.com accepted to the other search services.
While both eBay and AuctionRover.com declined to disclose the specifics ofthe deal, it has been rumored that eBay requested a tenth of a cent for eachlisting displayed in a search.
Other Conditions
It has also been reported that eBay is requiring that AuctionRover.com keepthedata it pulls from eBay's site separate from rival online auctioneers suchasYahoo! and Amazon.com.
This provision, in fact, is the reason why AuctionWatch.com's Sales said hiscompanyrejected eBay's contract.
However, officials for AuctionRover.com said that, without this agreementwith eBay, the site'slistings would plummet from more than 4 million to less than 1 million.
Other Alliance
In an unrelated agreement, the Mills Corp., a prominent mall developer, alsoannounced an alliance with eBay.
Beginning December 11th, eBay's Web site will feature "Shopping AdventuresWith the Mills," allowing its users to bid on special shopping sprees, tripsandcollectibles.