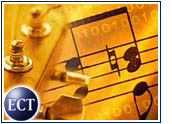 Duet, the online music venture backed by Sony Music Entertainment and Universal Music Group (UMG), has been renamed Pressplay, the companies said Monday.
The companies also said that two former UMG executives would be taking the reins of the new company. Pressplay's new president and chief executive officer will be Andy Schuon, formerly president and chief operating officer of UMG's Jimmy and Doug's Farmclub.com.
Michael Bebel, formerly executive vice president of business development and strategic planning at UMG's eLabs, will be Pressplay's chief operating officer.
Webnoize analyst Joel Karp told the E-Commerce Times that the renaming and the appointment of two UMG executives could signal that "Sony is ready to get out of this deal."
Karp said he did not think the fact that the Duet.com URL was already registered to another company was the reason for the name change.
"Sony and Universal have enough clout to eject another entity from that URL," Karp said.
Duet to Single?
Karp believes it could be significant that the companies changed the name from a word meaning two, Duet. Adding more fuel to the speculation fire, according to Karp, is the fact that "Sony hasn't been in the press at all lately."
On the other hand, Vivendi Universal, UMG's parent company, has been a major force of consolidation in the online music industry in recent months.
In May, the company announced that it was spending US$372 million to purchase MP3.com. In April, Vivendi shelled out $32 million to acquire EMusic.com, as well as an undisclosed sum to buy out BMG's share of the companies' joint venture, GetMusic.com.
Sony's Story?
However, Karp said that even if Sony does pull out of Pressplay, it does not mean that the company is not serious about the online music business. He pointed out that "Sony has a history of not conforming with other labels."
Karp speculated that Sony could be interested in "trying the online music business on their own."
Opening Soon
UMG and Sony said that Pressplay would launch in the U.S. by late summer and be available through a "broad array of affiliates." In addition to its existing deal with Yahoo!, Pressplay is also reportedly working on a deal with Microsoft that would make MSN a distribution partner.
The subscription music service will offer consumers the opportunity to download and stream songs on demand. Other features include the ability to compile personalized play lists and to share them with other Pressplay members.
Pressplay will have offices in New York City and Los Angeles.
Earlier on Monday, the European Commission (EC) confirmed that it was investigating potential anti-competitive aspects of both Pressplay and MusicNet, RealNetworks' music subscription partnership with Bertelsmann AG, AOL Time Warner and EMI Recorded Music.