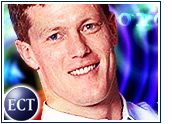 The year 2002 was about solidification of market gains for CRM vendors that were lucky, and just plain survival for those that were not. It was especially rough financially for mid-size CRM vendors, but Onyx CEO Brent Frei sees the past year as a glass half full. His company's accomplishments have positioned the vendor to increase not only its vertical offerings, but also its overseas market share, Frei says, and to entrench itself more deeply in the hosted-services space.
As part of its ongoing Five-Minute Sales Pitch series of interviews, CRM Buyer Magazine spoke with Frei about these developments and, more importantly, where he sees Onyx going as 2003 unfolds.
Frei attributes much of Onyx's success to its innovative technology. "The way our products are architected around the Web and the way the applications and features are put together so they work between departments has been the key factor," he said. The end result for the user? "He can work the way he wants to, rather than being forced into a particular model."
These attributes naturally lend themselves to a hosted solution, Frei added, which will be Onyx's focus for the coming year.
Moving Online
CRM Buyer: Why do you see the hosted services market becoming more important to Onyx, especially as there are already vendors well established in this space?
Frei: Look at the last two quarters. The industry has seen the pendulum swing from brand-name companies with expensive, complex software all the way back to the other side where companies want simple, easy-to-use solutions. We see hosting to be of growing importance in the small and medium-sized market. And in enterprise-sized companies, oftentimes there are divisions that want to go live as quickly as possible, so a hosted solution would be ideal there as well.
Partnering with Big Blue
CRM Buyer: How is Onyx's relationship with IBM going to make a difference in your business strategy next year?
Frei: We have had an ongoing relationship with its global services group, its hardware group and leasing group. Recently, though, we expanded that relationship to the hosting group.
The advantage with partnering with IBM is that we can provide users with a simple, cost- effective entry — then, if they want to scale further, to an upgrade path. The upgrade can still be in the context of a hosted solution, but customized for their business.
What Works, What Doesn't
CRM Buyer: We know the past year hasn't been that good for a lot of CRM vendors. What about buyers of this technology?
Frei: There is enough traction behind the CRM train, now that a lot of visibility has been gained on what works and what doesn't. Research firms, for example, are now starting to put out more meaningful data for people to make decisions with, answering such questions as, 'What is the real experience companies are having when they deploy software? Are they getting ROI? How much does it cost? What are the real adoption rates?'
Prior to this, analysts were focusing on things that didn't help companies make a purchase decision or describe what the user experience would be.