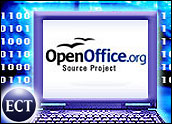 The third full OpenOffice suite is out in the wild and attracting plenty of attention. OpenOffice.org 3.0 was released Monday — and already, demand has been high enough to overwhelm the download servers and cause them to crash.
The software suite, designed as an open source alternative to Microsoft Office, offers everything from word processing and spreadsheet creation to presentation and databasing tools. Added in the 3.0 release is a host of extensions to allow a more customized user experience.
Apple Appeal
The new OpenOffice will have extra appeal for Apple users: In addition to supporting Windows and Linux, the 3.0 release is the first version with native support for the Mac OS X platform. Past releases worked only with X11 and required additional tools for OS X use.
"That opens up a whole new market for us," John McCreesh, marketing project lead for OpenOffice.org, told LinuxInsider.
The program's look gets a major makeover with its third incarnation as well. The start center, splash screen, and icons are all refreshed with an updated appearance. But it's the features beneath the surface that are the developers' true focus.
What's New
The suite's word processing tool adds a new multi-page display mode that features a slider control. The result? You can zoom in and out while editing. There's also a built-in utility for Web-based wiki document editing and expanded notes options. When it comes to the spreadsheet, OpenOffice.org 3.0 boosts its capacity to 1,024 columns, adds multi-user collaboration options, and tacks on improved equation solving capabilities. Perhaps most noteworthy of all, though, are all the new features that you can choose — or choose not — to get.
"People complain about office suites getting bigger and bloated," McCreesh commented. "With extensions, we allow people to add on bits of functionality that are important to them."
Some of those bits include things like a PDF importing and editing tool, a slide previewing tool for presentations, and multiple language support. The key, the OpenOffice team believes, lies in the choice.
"For people who need [those features], they're absolutely wonderful — but for people who don't need them, then they're not cluttering up their hard disk," McCreesh pointed out.
The Server Situation
As for availability, OpenOffice.org is working hard to make sure its servers stay up and running. They're experimenting with a few options to keep the site from buckling under the heavy demand and are hoping users can remain patient.
"It's amazing — on the one hand, we're delighted that we've gotten such a huge response. On the other hand, we'd much rather all these people were successfully downloading rather than crashing the site," McCreesh said.
In the end, though, the team couldn't be more pleasantly surprised with the interest its open source solution is finally seeing.
"It's an unprecedented response," McCreesh admitted. "We've never seen anything like it."