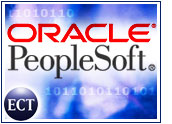 The Oracle-PeopleSoft controversy has caused a ripple — or perhaps a wave — that has not yet reached the shore of software development, but it carries implications for both the largest and the smallest software firms.
Although Oracle's hostile takeover of PeopleSoft is by no means a done deal, the very possibility signals a shake up in the industry.
In order to survive a marketplace in which even the largest companies might merge, the smaller houses will need to penetrate niches of industry — even subsegments of niches of industry — with specialized applications too small for the SAPs, Oracles and Siebels to exploit.
Takeovers Take Off
With the U.S. District Court of San Francisco giving the green light to Oracle, mergers and acquisitions of other big players might occur, said Henry Morris, a group vice president at IDC Group. "We think that this isn't a final chapter," he told CRM Buyer.
Oracle's fight against the Department of Justice likely will embolden other firms to follow suit, he said. Some have a head start. The human resource applications market alone saw 22 mergers and acquisitions between October 2003 and May 2004.
"Takeovers are actually already happening on a smaller scale," said Brian Dunn, a vice president at HighTower Inc., an Illinois-based vendor of accounting software enhancements. Sage Group, a multinational software builder based in the United Kingdom, bought Best Software, the developer of the accounting package for which HighTower builds add-ons. In addition, Microsoft bought Great Plains Software.
"I think the only place we're likely to see a mega-merger of equals like PeopleSoft and Oracle is in the mid-market, where companies have to gear up to compete with Microsoft," Erin Kinikin of Forrester Research said in an interview with CRM Buyer.
Best and Sage was a start, she said, "but there's still a lot more consolidation and economies of scale that could be generated in the mid-market, where the size of your advertising budget and your partner network is a key indicator of your likely success."
'Sugar Daddies' for CRM
"Acquisition and consolidation is happening, and this would only tend to encourage more of that," Morris said. "That being said, that doesn't mean there's no room for smaller companies."
"We're seeing a real trend towards sugar daddies for smaller CRM companies," Kinikin said. "AIT has a strong agreement with Unisys. Kana and Chordiant partner heavily with IBM. Onyx does a lot of its business via Metavante. The smaller company is trying to absorb some of the invulnerability of the larger partner."
The long-term success of these partnerships will be driven by the ability of the small software vendors to market through multiple partners, Kinikin said, because "one large partner can eat a small company alive if it doesn't have the leverage of market demand."
Morris agreed: "In general, applications are really about supporting particular processes and providing support for particular industries. That's how SAP grew to be as large as it is."
The Small Get Smarter
The mid-range and smaller software companies that manage to remain independent have an option besides consolidation: They can follow Novell's lead and buy consulting businesses, making expert service their point of differentiation in a competitive marketplace and perhaps snagging some of the high-end business dropping away from other vendors.
Or they may focus on specialized solutions.
"You have companies competing in specific industries, not addressed by the largest enterprise application companies like SAP," explained Morris. The problems to be solved need to be big enough to guarantee sufficient business for the independent software vendor, "but not so big that Oracle and SAP want to go after them. These are not gigantic markets, not billions of dollars, but enough to sustain a number of vendors."
Besides building plug-in software, smaller companies might succeed by introducing business rules for decisions that now rely on human consideration, not computing power.
Getting Realistic
"We've seen a lot of companies running for niche vertical markets," Kinikin said. "But there are going to be very few industries without some entrenched, well-funded competitors."
Morris provides an example: "The area around supply-chain optimization or planning was something people considered a very small niche," he said. SAP contracted with i2 to embed the supply chain management software in its enterprise application.
"But as the market heated up, SAP changed strategies and decided to build its own supply chain management product," Morris said. "The niche became more important — important enough to attract a larger competition."
However, some niches stay niches for a long time, he said. "Tax calculations basically are not going to be a huge market for an SAP to go in and set up all the requirements. It's not worth it," he said. As a result, a few small companies provide software to their large colleagues and competitors, and they are likely to keep doing so.