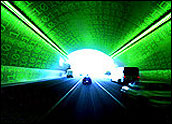 Open source software is making its way into the systems that touch our everyday lives, from our banks to the stores where we shop. Open source is also found in some of the IT systems that manage traffic flow on city streets, state highways and in the skies. In fact, throughout the overlapping transportation and travel industries, open source has a very big footprint.
So, open source is taking over traffic flow management throughout the transportation industry, right?
Not yet. It probably will not be a pervasive source in handling ground traffic flow any time soon. However, there are factors that suggest it will ultimately get there.
"No open source software to support traffic flow exists. We're building it as we go. The process is analogous to tracking dots on a map," Margaret Sorentino, senior software engineer at Wireless Matrix, told LinuxInsider.
Seeking a Breakthrough
Wireless Matrix develops fleet management solutions and provides wireless data communications services. The company relies on mobile phone and satellite technology.
The company also makes vehicle tracking software in real time locations over a Software as a Service (SaaS) delivery model. The GPS (global positioning system) signal is sent over cell waves and is captured on the company's data screens.
Several of the company's products are based on open source tools. These tools let drivers download traffic alerts to their mobile phones while they are navigating through traffic.
"Everyone is jumping on open source as a way of controlling cost. Traffic flow management is a good market to be in," she said.
Academic Progress
Much of the work on developing new traffic management solutions is taking place through collaborative efforts between researchers and practitioners. One such endeavor is a project run by the University of California in Davis (UC Davis) and the California Department of Transportation (Caltrans). Working with several states, researchers are developing a traffic management system based on open standards and open source software.
Known as the "Advanced Highway Maintenance and Construction Technology," or AHMCT, the researcher center has cobbled together a working system for an Advanced Traffic Management System (ATMS) that uses open standards, open software and commodity computer hardware. Researchers hope to greatly reduce ATMS deployment and maintenance costs, thus freeing funds for additional ATMS deployment.
Researchers hope their efforts will eventually economize the cost of maintaining current traffic management systems built around high-cost, proprietary, single-source ATMS components. The goal is replace these aging systems with multi-sourced commodity hardware combined with open source software that has no annual licensing fees.
UC Davis and company are focusing on an existing open source ATMS package used by the Minnesota Department of Transportation called the "Integrated Roadway Information System," or IRIS for short. If successful, the use of open source technologies will lead the Californian highway department to helping the state achieve annual savings in the millions of dollars, according to university researchers.
Flying Progress
A similar system is in use to control traffic above ground as well. The Federal Aviation Administration has adopted an open source air traffic management system. The FAA is replacing its old proprietary systems using Java, Web service, open source and Oracle applications.
Part of the upgrade involves swapping out Unix for Red Hat Enterprise Linux, according to published accounts. The FAA is using a real-time system called the "Enhanced Traffic Management System" to predict traffic surges, gaps and volume across the national airspace.
For around US$15 million under the original $25 million price tag, the FAA implemented the new system and spent two-thirds less time than originally projected doing it. The transition to open source resulted in being able to use greater hardware flexibility and software control.
Promise Exists
Open source architecture is often the primary choice in South American and European countries, which are in many cases required by law to use non-proprietary software if such a solution exists. The travel and transportation industries, of which traffic management is a growing subset, includes a wide variety of systems.
"Open source is becoming more prevalent in international markets based in South America and Europe. That will have a strong influence on U.S. market counterparts to develop new systems with open source," Guibert Englebienne, CTO of Argentinean software development and maintenance company Globant, told LinuxInsider.
A solid 95 percent of Globant's customers are based in the U.S. and England, he said. He is seeing a greater emphasis of open source products blending with existing proprietary products in the U.S. market.
"We see all the major players moving towards Linux running JBoss or Tomcat or Apache," Englebienne added.
The U.S. market will create open source platforms and customize them to their varying traffic management needs, he noted.
Community Support
One example of forces in motion to drive open source towards better managing traffic flow in the U.S. is the OpenTraffic project. The community contributes software for use in ATMS applications to the transportation industry. Its goal is to produce high-quality software guided by industry and worldwide standards that remains free to download, use and distribute.
Since OpenTraffic is an open source project built around the Eclipse integrated development environment and application framework, private industry developers can add proprietary device support. The Eclipse platform is written in Java and provides modeling tools, a deployable application platform (RCP) and a tools library for application development.
The Eclipse model is conducive to shared development because its applications are built around plug-ins. These highly modular and flexible components do not require access to source code. In addition, OpenTraffic can be branded and highly customized to match the needs of the required transportation management user. Also, plug-in developers can contribute them as open source projects or retain ownership as proprietary software.
Making Inroads
Traffic flow management in the U.S. may see better methods brought about by open source architecture as the transportation and travel industries realize the efficiency and cost gains open source provides. Take, for instance, the view of an open source technologies expert.
"Open source offers capabilities for higher traffic monitoring. It can have really beneficial effects. It is possible that open source has the added benefit of having the car on the Internet," David "Lefty" Schlesinger, director of open source technologies for Access Systems America, told LinuxInsider.
As an example, consider the OnStar phenomenon and other GPS systems.
"OnStar gives you a flavor of what you can do in the automotive environment," he said.