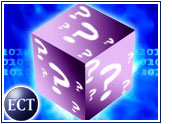 For large and small e-tailers alike, the traditional method of doing business online has been fairly standard. They present a bevy of products, build a secure purchasing interface and advertise so that customers will come clicking to their virtual doorstep. In the past couple of years, however, some e-commerce companies have followed their own path to profit by breaking the mold.
These maverick e-tailers are experimenting with out-of-the-box sales methods that have sometimes been disparaged in the past, such as subscriptions, broadband delivery of multimedia and newly refined auction models. Does it pay to be unconventional in today's e-commerce market?
No Late Fees
The best example of an unconventional e-tailer may be Netflix, a DVD rental service that charges a monthly subscription fee of US$20 in exchange for unlimited rentals with no late fees. A user can keep up to three DVDs at a time and can choose others to put in queue. When one DVD is sent back, Netflix automatically mails the next available choice on the user's list.
The company is doing well, according to Aberdeen Group analyst Kent Allen, because it addresses a need for customers. Returning rented movies on time seems to be an enormous drag for many people, and Netflix is growing fast because it does not have such a requirement.
"Netflix is a model that fills the gap," Allen told the E-Commerce Times. "We're all familiar with the pain of renting movies, and this is a welcome relief."
The rationale underlying the e-tailer's success is that rather than developing an e-commerce idea and then hoping customers liked the concept, Netflix started with what customers wanted and built its business model atop that foundation. The company has already sparked at least one imitator, DVD Avenue.
"It's a model that starts with the customer and works backward," Allen said. "We're going to start seeing this approach much more often. It's all about customer empowerment, and as e-tailers understand the importance of that, they're going to have revisit the way they create value for customers."
Solid Sound
On another e-tail front, the market for digital music has never been stronger, despite wrangling between the RIAA and individuals who share music files online. Apple has employed a standard e-commerce model with its iTunes Store, which has sold more than 10 million songs since its launch in April, but other companies are following different paths.
For example, the new Napster, which will relaunch later this month, will offer a $9.95-per-month subscription option in addition to 99-cent-per-song a la carte downloads. Like competitors iTunes and BuyMusic, among others, the service will feature music from all five major record labels.
On a slightly quirkier front, Stealmymusic.com, which may sound like a shady anti-RIAA organization, is actually a way for independent artists to get their music heard. Founded by two musicians, the company buys homemade CDs and charges buyers only for shipping costs.
Stealmymusic.com's revenue may not position it as a threat to major players in the online music space, but its founders hope rewards will come in the form of more people being exposed to indie music.
Broadband Darling
Movielink is yet another e-commerce company experimenting with online rentals, rather than outright purchases. An extra wrinkle is that the company serves only users with broadband connections, so it is banking on the belief that its revenue stream will grow into a mighty river.
Movielink spokesperson Rachel Heffron told the E-Commerce Times that although the company's success has been hindered somewhat by slow adoption of broadband, it remains confident about the future.
The Windows-only service allows users to download films for a charge that ranges between $2.95 and $4.99, depending on how new the movie is. The film then resides, unwatched, on the user's hard drive for 30 days. Once the user starts video playback, he or she has 24 hours to view the film. After that, it is automatically erased. Because of digital rights management protections built in to the files, movies purchased from Movielink cannot be burned to DVDs.
Heffron said that while the two-year-old company is still a small player, it is watching the growth of broadband and the rise of home networking with a keen eye.
Age of the Unconventional?
Will these and other unconventional business models emerge as winners in the long run? In the wake of the dot-com bubble burst, with businesses based on flimsy premises long gone, prosperity for the survivors seems far more likely. For starters, the cost of e-commerce software has plummeted.
Michael Levin, vice president of marketing and business development at Web development company StoreFront, told the E-Commerce Times that today's Web tools let entrepreneurs experiment with only a small startup cost.
"A lot of e-commerce software allows a customer to build a very workable site for just a few thousand dollars," he said. "The next Netflix could be one guy in his back room."
The result of such low-cost experimentation is that even more business models may emerge to challenge the standards of today's established e-commerce players. Allen noted that this could bode well for the future.
"Companies will start to build real multichannel sites and become more customer-centric," he said. "I see this spurring a whole wave of innovation."