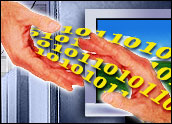 Taking a shot across the bow of the peer-to-peer (P2P) filesharing industry, attorneys general from 45 states warned of tough enforcement action against P2P users if companies fail to undertake further reforms.
The concerns were expressed in a letter from the attorneys general to the industry group P2P United, which represents such companies as Kazaa, Morpheus, eDonkey and LimeWire. The letter comes as the latest volley between the attorneys general, who are widely viewed as working on behalf of Hollywood and music industry interests, and the P2P industry, which complains it already has taken steps to address the concerns.
The letter stated that the technology is contributing not only to copyright infringement but also to the dissemination of pornography, including child pornography.
High-Tech Hijacking
"At present, P2P software has too many times been hijacked by those whouse it for illegal purposes to which the vast majority of our consumersdo not wish to be exposed," the letter said.
The attorneys general went on to warn that they will take action to stop illegal practices by P2P users, just as they have initiated Internet-related actions in the past to deal with unwanted spam and deceptive e-mail.
"Ridiculous," Says Industry Insider
Wayne Rosso, former CEO of Optisoft — the company that created the Blubster P2P program — criticized the letter as a product of the movie and music lobbies, the Motion Picture Association of America (MPAA) and the Recording Industry Association of America (RIAA). He also refuted its complaints that P2P is plagued by child porn, viruses and privacy invasions.
"Clearly, it was written again by the MPAA and RIAA," Rosso toldTechNewsWorld. "It's beyond ridiculous. I don't think this is going togo anywhere."
Issues Addressed
Rosso said the letter failed to acknowledge praisefor P2P providers from both the Federal Trade Commission and GeneralAccounting Office, which commended P2P United for its actions nearly ayear ago.
Rosso, who is starting a new P2P company this month, also complainedthat the letter fails to acknowledge U.S. court findings that have notheld P2P software makers responsible for what individuals do with theirsoftware.
"They're trying to hold us responsible for people illegally using oursoftware," he said. "It's ridiculous."
Futile Efforts
Yankee Group senior analyst Mike Goodman said the letter from the attorneys general lost credibility by inaccurately implying that filesharing can occur on a computer when it is turned off.
Goodman — who pointed to the international, billion-dollar business ofP2P — said governments will have minimal success in regulating theindustry because it has spread across the globe.
"The reality is you have no ability to control offshore," Goodman told TechNewsWorld. "The attorneys general want things that are just not going tohappen."
The analyst went on to ask whether Xerox should be held responsible forphotocopies of child porn or if VCR makers are held responsible for the use of their products for child pornography.
"Attorneys general and legislation are all irrelevant because theInternet is an international body," Goodman added.