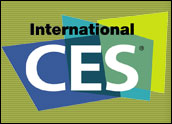 Companies like Sony and Microsoft are typically the ones to gather the biggest crowds at the annual Consumer Electronics Show in Las Vegas. This year, however, a lot of anticipation centered on Palm, a company that pioneered the concept of the PDA and the smartphone, but has more recently endured a streak of lousy sales, few new or exciting devices, and the unfortunate embarrassment of an aborted product.
What it managed to come up with for CES was expected to be an indication of whether Palm would sink or swim.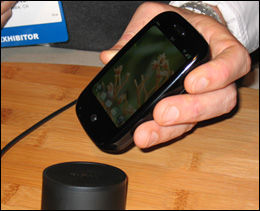 So, on Thursday, Palm revealed what it hopes will keep it buoyant: a new touchscreen smartphone, the Pre, and a new operating system to run on it, WebOS. The package targets both businesses and consumers — it's not just for work, not just for play.
"We think it's the one phone you can use for your entire life," said Palm CEO Ed Colligan.
The platform will be the basis for innovation for Palm for the next 10 years, he noted.
The Pre will be available in the U.S. from Sprint in the first half of this year; no price was named.Investors seemed to cheer the announcement — Palm's shares were up nearly 35 percent by market close on Thursday.
Known Language
"We had to start with a new platform from the ground up," said Colligan. WebOS is designed to connect every application — even the contacts manager — to the Web in some way, shape or form.
"It was built with developers in mind," Colligan said, and uses industry standard languages like CSS, JavaScript and HTML. "No new languages to learn, period."
The Pre handset features a 3.1-inch touchscreen (320 x 480) as well as a slide-out keypad. It also has an area below the screen called the "gesture area" — sweeping your finger over it performs special functions.
It runs on the EVDO Rev A network and has Bluetooth stereo, 802.11b and g, GPS and 8 GB of internal memory. The 3-megapixel camera on the back has an LED flash, and the battery is removable.
Card Game
Rather than the desktop metaphor found on most computer operating systems, the Palm OS is based on the concept of a deck of cards. You start an application from the phone's traditional Palm-style launch area or from your set of four favorites. After you're finished, or if you want to go to another app, hitting the center button below the touchscreen will pull the view back to reveal all of the "cards," or applications, you have running simultaneously. Swiping the app upward saves and exits.
The Pre emphasizes a technology Palm calls "Synergy."
"All of your applications communicate dynamically with the Web," said Matias Cuarte, senior director of human interface and user experience. It's designed to help you sort out your various sets of contact information, user profiles, social network memberships and Web app identities.
For example, if you have one e-mail address for work and one for personal use, WebOS can be set to show you a merged in-box — all your e-mail, all in one place. Hit reply on one, and it will be sent from the address it was sent to. You can also look at multiple in-boxes and e-mails at once, using the card metaphor.
The messaging app works the same way — it wrangles all your various Google Talk, AIM, etc., profiles into a single app. It can also be streamlined with the short message service utility, so you can continue a conversation that started on SMS into instant messaging (IM).
Polite Interruption
The keyboard can be used to launch a search on the phone or on the Web. With no app running, if you start typing something you're looking for — the example Cuarte used was "Blue Man Group" — the phone first begins searching contacts. "BL" brought up a contact whose name starts with "BL," along with all his contact info. "BLUE" brought up no contacts, so the software turned to the Web. Once you're finished typing, you can elect to search for the term on Google, Maps or Wikipedia.
The Web browser sports a desktop view and multitouch pinch controls much like the iPhone's for zooming in and out of a page. Unlimited "cards" — Web pages — can remain open. Rotate the phone, and the screen rotates with it for a widescreen view.
Anyone showing a mobile browser that supports Adobe Flash will usually underscore that point, as some popular mobile browsers don't abide the technology. However, Palm's presentation didn't mention Flash.
The software minds its manners, meaning it won't completely interrupt an activity if a call, a message or a reminder pops up. Instead, a small notification appears at the bottom, which can be left alone, discarded, or selected if immediate attention is required.
Finally, Palm has also planned the Pre's first accessory, the Touch Stone. It looks like a hockey puck you keep on your desk. The Pre magnetizes to it and charges up via wireless inductive technology.